Amber
Hiiii!
I'm Amber, 34, and I live in sunny San Diego with my guys! My husband, Gabe, is a Sonar Technician in the Navy. He's usually stationed on a submarine, but we're currently enjoying his last year of shore duty (that means no deployments!) right now. We could not have picked a better spot to spend these last 3 years. San Diego has been amazing! He's been in the Navy for over 16 years and our 16th wedding anniversary is coming up soon! Gabe and I met waaay back in high school in North Carolina. Our duty stations include Kings Bay, Georgia and Portsmouth, Virginia before our adventure to the west coast.
A few things about me.. I LOVE to read, I have fun attempting to be crafty and I love a great DIY project. I'm always trying new recipes, I might have a teensy tiny Pinterest addiction and I love exploring new places. Also, I'm a HUGE nerd! We are a comic book loving, Star Wars watching, video game playing family. True kids at heart! We love to play around and I spend most of my days just laughing with the awesome people in my life.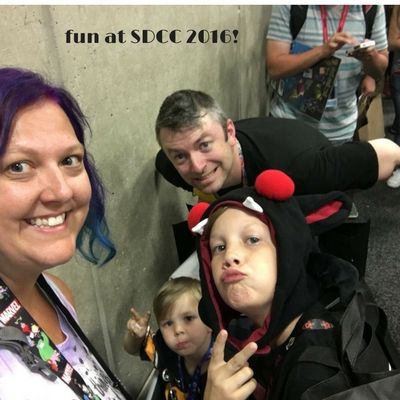 I'm also the lucky lady who gets to stay home with the best boys EVER! Tyler is 10 and Cameron is 5. They are my true joys in this life. This fall will be the first time they're both in school and I just don't even know what to think about that! Starting with mymilitarysavings.com could not have come at a better time! I'm VERY excited to share a bit of my crazy life with all of you!