Blackberry Wine Slushies
Hey everyone! We're almost through the week y'all. Tomorrow is finally FRIDAY! I've been (not so) patiently waiting for the weekend and as a reward to myself, it's time for Happy Hour! I don't know how the weather is where you are, but down south it is HOTTTT! So, I thought I could kill two birds with one stone and cool off AND relax with one delicious adult beverage. 😉
Enter the Blackberry Wine Slush!
All you need for this refreshing drink is 1 cup of your favorite frozen berry (I used blackberries,) 2 cups of chilled white wine, such as Moscato, and 2-4 tablespoons of blackberry syrup. These flavored syrups are usually found by the coffee syrups or even with the drink mixers. If you don't have any, a simple syrup will work wonderfully. Simple syrup is made by boiling 1 cup of water with 1 cup of sugar until dissolved. Cool and voila! Simple syrup! You could also skip the sweetener, if you're so inclined. You know me, I love versatile and customizable recipes!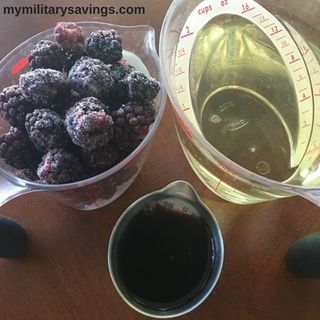 Add your ingredients into a blender and THAT'S IT. It's easy peasy and so cool and refreshing! I added a sprig of fresh mint to feel fancy. 😉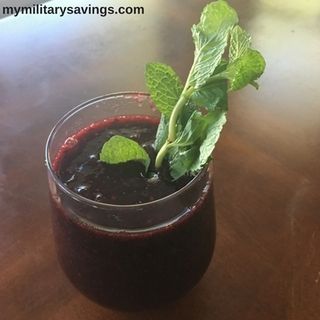 This drink is great for spending an evening outside. The frozen blackberries keep the drink nice and cold without watering it down. You could even make a pitcher ahead of time and keep it in the freezer so it stays slushy!
Give it a try this summer and let me know what you think!
For more information and drink recipes, please visit www.diageomilitary.com
As always, please drink responsibly.