Cartoon your food with Nerdy Nibbles!
Nerdy Nibbles is back with another SUPER fun and SUPER nerdy recipe! Guys, this was SO much fun! One of our favorite cartoons to watch with the boys is Steven Universe! It is so funny! Steven's favorite treat are Cookie Cat ice cream sandwiches and after buying a cat head cookie cutter online, I knew I had to try it out with cookie cats! If you don't love all things nerdy (like us) you should still use this recipe for homemade ice cream sandwiches. They are YUMMY!
First step is to freeze the ice cream flat in a pan. The Cookie Cats from Steven Universe have vanilla and strawberry ice cream so I had to do stripes and it was messy, but so much fun. Ha ha! Also, no one in my family really loves strawberry ice cream so I found a black raspberry that was PHENOMENAL! Let the ice cream melt a little so it's easily spreadable and then you're going to refreeze it overnight. I used parchment paper underneath so it'd be easier to handle once frozen.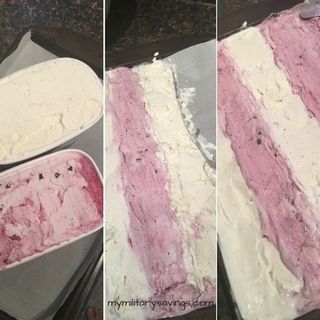 The cookie recipe is REALLY easy! You actually start with a base of boxed cake mix. Semi-homemade all the way! Mix together:
1 1/2 cups of chocolate cake mix
1/4 cup all purpose flour
1/4 cup shortening (or softened butter)
1 egg
1 tablespoon water
Wrap in plastic wrap and chill for at least 15 minutes (up to overnight.)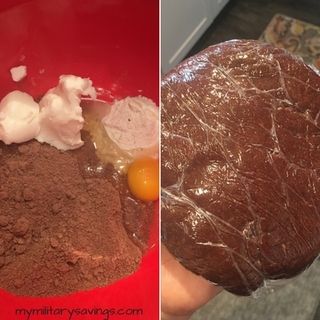 A little trick when working with chocolate dough, use cocoa powder to flour the surface and rolling pin! That way you won't have a bunch of white flour all over your beautiful chocolate dough. 😉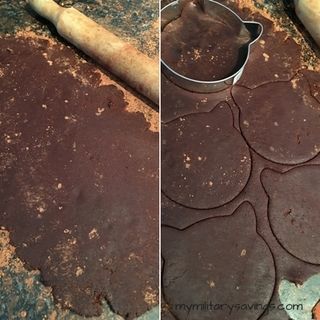 Roll out your dough and cut out your cookie shapes. Remember you'll need a top and bottom for you cookie sandwich. I had enough dough for 4 sandwiches, with a tiny bit of dough leftover, that I promptly ate. (Don't eat raw dough, guys! It's okay, I'm a professional. HAHA!)
Use a straw or toothpick to make little eyes for your cats. You only need to do this on half your cat heads. Bake at 375 for 5-7 minutes. Let cool completely!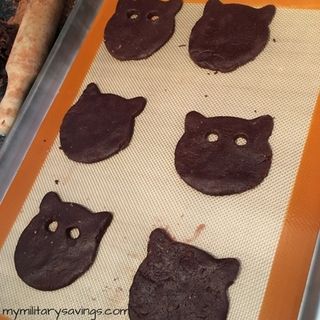 Working semi-quickly, cut out you cookie shaped ice cream. Place on the bottom cookie and top with your eyeball cat. 😉  Wrap each sandwich in plastic wrap and freeze until you're ready to serve!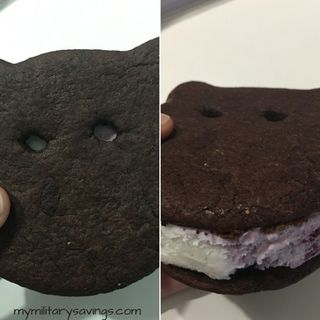 HOW DANG CUTE ARE THESE GUYS?!? The ice cream sandwiches turned out AMAZING! I'll be using this recipe all summer long! The cookie stayed crisp on the outside and deliciously creamy on the inside. The combo of vanilla and black raspberry ice creams was spot on!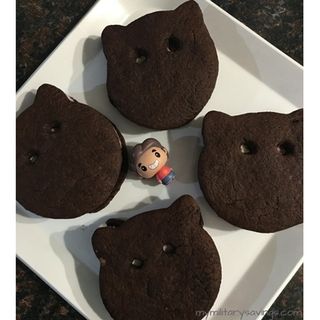 "Cookie Cat.. He's a pet for your tummy!
Cookie Cat.. He's super duper yummy!"