Competing with Myself: 90 Day Challenger
Week 10 Day 63
I have always tried to eat healthy.  My husband jokingly says I'm a bunny because I love to eat lots of fresh fruit and vegetables.  Salads have always been a favorite thing of mine to eat.  I have all sorts of various recipes of my own design that revolve around salads.  I grew up primarily in the southern part our country once my dad started prepping the family for his retirement from the Military. If you know anything about the south, you know that the seasons aren't Spring, Summer, Fall and Winter.  The seasons are Hot, REALLY Hot, Holy Cannoli Hot and maybe for maybe about 2 to 3 weeks of what is considered Fall and Winter in the deep south.  So salads really became a great way to eat healthy and not have it weighing on your stomach heavily during the humid hot southern days.   If you look at the picture below, it is of my Grilled Chicken Salad and I am pleased as well as honored to be able to share my recipe with you. As much as my husband teases me about being a bunny, this is one of his favorite salads to eat for a light lunch or dinner.  You can always add more veggies to increase the size of your portions.  Of course you can adjust the recipe to make additional servings as well.  This is a great salad to bring for FRG potlucks and BBQs.
Ingredients:
3-4 boneless / skinless chicken breasts
1/4 of a head of lettuce
3 stalks of celery
5-7 mini sweet peppers (any color is fine, I just had the red)
1-2 tbsp. light Italian Dressing (I used a rustic tomato Italian dressing)
Preparation:  (Steps 1-2)
(1) Wash chicken in cold water and then boil in a pot with 1/4 tsp olive oil, pinch of salt and 1/4 tsp rosemary (dried is fine). Once chicken is completely boiled, then drain out the water and set chicken aside to be grilled.
TIP: the boiling chicken ensures you will have your chicken completely cooked all the way through as well as keep it tender after is grilled.  It also helps to boil off any excess fat.   It is also considered to be "clean eating" to prepare your chicken this way before you grill, bake, roast and even for the not so healthy frying.
(2) Wash your hands before switching from chicken to veggies. Next, wash all your vegetables to include your lettuce with cold water and even a fruit and veggie wash if you have it on hand, make sure you rinse with cold water to get the wash and any excess of the fruit / veggie wash removed from your food.
Don't forget to read the directions on your fruit and veggie wash. Please ensure you do not use it on any food that it is not made for to include some fruits and vegetables and before you peel or cut your fruits and vegetables. Make sure you rinse your hands thoroughly as well to remove any fruit and vegetable wash that could be on them.
Directions: (Steps 3-8)
(3) Chop lettuce into large bit size pieces and place in a large bowl.
(4) Cut ends of off celery and discard the ends. Next, split  the celery down the middle of stalk (long ways) with your knife and then chop into bite sized pieces (short ways).  Place celery into the large bowl with the lettuce.
(5) Cut the top off the peppers and spilt down the middle so that you can scoop out the seeds. Chop into bit sized pieces once and place into the large bowl with your lettuce and celery.
(6) Mix your vegetables and salad dressing together in the large bowl. Cover the bowl with a  lid or plastic wrap, then set it aside in the fridge to remain chilled while you finish preparing your chicken.
(7) Grill your chicken, while you are grilling your chicken brush on the same kind of salad dressing you are using for your salad.  Be sure to brush do this to both sides of the chicken you are grilling. Don't use be too heavy handed with the dressing, but feel free to brush on as little or much as you'd like for taste.  Just keep in mind this adds calories, so if you are a calorie counter or are trying to watch your calories then I suggest reading the label and measuring out what you will brush on to your chicken.
(8) Once your chicken is grilled and you've let it cool for a minute, then chop into approximately 1 1/2 inches to 2 inches pieces. (bite sized)
Take your salad bowl out  the fridge and add your grilled chicken to it.  Enjoy!
Serves approximately 4-5 people.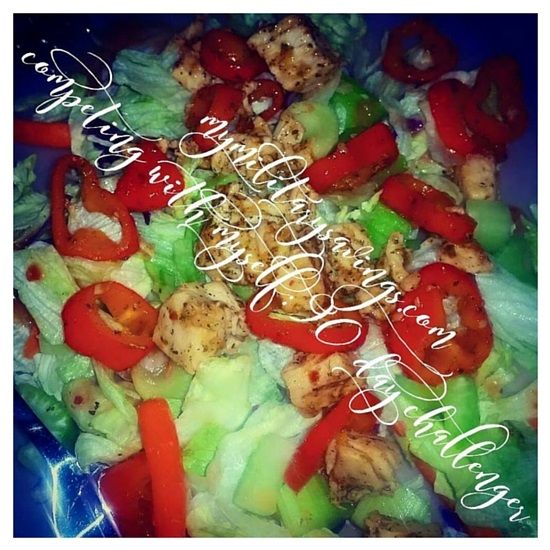 Week 10 Fitness Goals: Go to Muay Thai & Cardio Classes every day Monday – Friday, Go to Muay Thai Fundamentals every Tuesday & Thursday.   Take 20 minute walk after every breakfast and dinner.
Week 10 Nutrition Goals: Reading more of my labels.  Try to eliminate as much as the preprocessed and chemically altered foods / drinks as possible from my diet. Remove foods / drinks that are high in trans-fats.  Will not use of foods nor drinks that contain cottonseed / rapeseed oil (such as most peanut-butters).
Weight & Measurements as of Monday August 1st:
weight- xxx pounds
hips- xx inches
waist- xx inches
left bicep- xx inches
right bicep- xx inches
left thigh- xx inches
right thigh- xx inches
DISCLAIMER: The information presented on this site is by no way intended as medical advice or as a substitute for medical counseling. The information should be used in conjunction with the guidance and care of your physician. Consult your physician before beginning any exercise and nutrition program. If you choose not to obtain the consent of your physician and/or work with your physician throughout the duration of your time using the recommendations on this site, you are agreeing to accept full responsibility for your actions. By continuing with the programs, exercises, advice, information or diets found here you recognize that despite all precautions on the part of MyMilitarySavings, there are risks of injury or illness which can occur because of your use of the aforementioned information and you expressly assume such risks and waive, relinquish and release any claim which you may have against MyMilitarySavings or its affiliates as a result of any future physical injury or illness incurred in connection with, or as a result of, use or misuse of the programs, exercises, advice, diets and/or information found on this site.