COMPETING WITH MYSELF: 90 DAY CHALLENGER
Week 13 Day 84
It is hard to believe that I am down to my last 6 days of this 90 day challenge.  I will be continuing my journey beyond the 90 days; however, I won't be checking in with everyone once a week after next week.  I hope that those of you whom are challenging yourselves continue your journey as well. Remember you can exercise anywhere and even when you are on vacation.  You don't have to be in a gym nor an exercise class.  There are things you can do with no equipment and from pretty much any where.
I have managed to find ways to continue to exercise even when I have been traveling this summer.  I am currently visiting some family on the east coast this time.  My sister and I started training together the first morning, just 5 hours after I had arrived at my parents house.  While we have been outside working out, we both are dealing with the humidity being a little bit more than either of us is used to, along with the infinite armies of bugs.  I am sure we were quite the show for the locals watching us swat bugs and training with MMA at the same time. As promised there are videos in this blog and more to come next week in my last blog for this 90 day journey.
My sister and I were talking the other day about what made us decide to start working on our health and fitness.  My sister started about a year or so before I did, but without knowing the others initial motivation, we both had a few of the same things that had led us to reach the same decision. There are many things that run in our family health wise that we want to avoid, one being diabetes and another being weight issues.  Both of us had decided that we didn't want to just lay down and accept that would be our fate, we decided to try whatever it takes to avoid becoming a family statistic because of our genes.  Why should we when there is a possibility of not having those health issues no matter what is in our genetics.  If you can avoid things or do stuff that lessens the likelihood of becoming diabetic or what have you,  wouldn't you do whatever you needed to do. The alternative is that you will have your fate sealed; just because you weren't willing to put in the time, effort and dedication.  I don't know if I would be willing to just lay down and accept defeat like that… I can't imagine not putting up a fight.
While traveling I have behaved myself and ate mostly fresh fruit and vegetables.  The only thing that wasn't so good, was the fried green tomatoes I had one day.  They were so good and I haven't had them in years.  I can't get green tomatoes, much less fried green tomatoes where my family is currently stationed at, so I could not help myself.  I had to have some of them, they are so yummy.
My dad took some pictures of us while we were working out as well as some videos.  However, I can't share the videos due to some colorful language my sister used, so I hope the pictures will be good enough.  I do have one silly picture of my dad with my sister and myself, we are making some ridiculous facial expressions.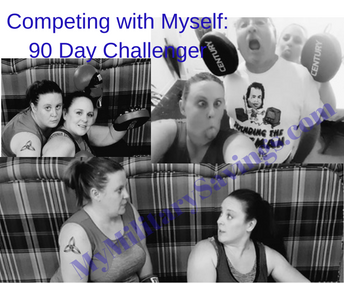 DISCLAIMER: The information presented on this site is by no way intended as medical advice or as a substitute for medical counseling. The information should be used in conjunction with the guidance and care of your physician. Consult your physician before beginning any exercise and nutrition program. If you choose not to obtain the consent of your physician and/or work with your physician throughout the duration of your time using the recommendations on this site, you are agreeing to accept full responsibility for your actions. By continuing with the programs, exercises, advice, information or diets found here you recognize that despite all precautions on the part of MyMilitarySavings, there are risks of injury or illness which can occur because of your use of the aforementioned information and you expressly assume such risks and waive, relinquish and release any claim which you may have against MyMilitarySavings or its affiliates as a result of any future physical injury or illness incurred in connection with, or as a result of, use or misuse of the programs, exercises, advice, diets and/or information found on this site.