COMPETING WITH MYSELF: 90 DAY CHALLENGER
WEEK 14 DAY 91
This past week was my last week with the ninety day challenge. I am sad to say goodbye to checking in weekly with all of you and the time seems to have past so quickly this summer.  I reflect back on how I started this challenge and I think about all the cool stuff I did, like hiking in the Pacific Northwest and then getting to train with my sister while down on the east coast in the southern part of Georgia.   I have made progress and I have even had some set backs.  I will continue on this journey to improve myself, though I will not be in every week to tell you about my experiences.
I hope that each of you continue on your journey to improve your health and fitness as well as be an inspiration for others who are seeking to embark on this sometimes fun and scary journey to get into better shape and become a healthier version of themselves.  Remember to encourage one another and NEVER forget to encourage yourselves!
Write down your goals and progress, so that you can reflect upon your journey and see all the hurdles you over came.  Don't let any slips or trips discourage you, just get back up and dust yourself off and keep moving.  You can do this and I so can I.  It may not always be easy, but it will always be possible.
Think positive thoughts and remember that you are not competing with anyone, you are only competing with yourself.  Each day you are working towards being a healthier and fitter you today, than you were yesterday.   Don't try to make yourself fit into some box of what you think you should be, just be yourself and be happy with your hard work and dedication to your health and fitness goals.  Keep your goals realistic and remember that any thing worth having and keeping is worth working hard for and takes time, so be patient with yourself.
A glimpse via a video, into my journey from this past July while I was hiking 12 miles on this particular day along the Oregon coast in the Pacific Northwest.
My hardest hurdle in this journey has been being patient with myself and not beating myself up for not being where I think I should be.  I have to remember that I am exactly where I need to be and will just keep working towards being where I would like to be.
No one can make you feel beautiful, if you don't believe you are.  Remember that beauty runs deeper than just our physical bodies.  Beauty is about our minds and our hearts, our physical selves will mirror our inner beauty.
Though I won't be checking in weekly any longer, I will still cherish your words of encouragement and would be honored to share in your journey, so please feel free to post comments to the blogs from this 90 day journey I was on with each of you.  Remember that I will still be working towards my ultimate goal of a healthier, fitter and stronger me.   I hope that you will continue to work towards your goals as well.
I have enjoyed my time with you and wish to thank you for being a part of my journey.
I would like to thank those who have assisted me on my journey and those who will continue to be apart of it.  Thank you to my sister, Salina who inspired me to find something that worked for me, which happened to be MMA.  Thank you to Charlotte in Chicago who continues to motivate me to keep moving and to never give up.  Thank you to Ivey who worked with me several times one on one training me.  Thank you as well to Coach Rico who has taught me so much with Muay Thai classes and will continue to train me so hard that my sweat drips down my face into my eyes with stinging success.
A collage of photographs from the 90 days: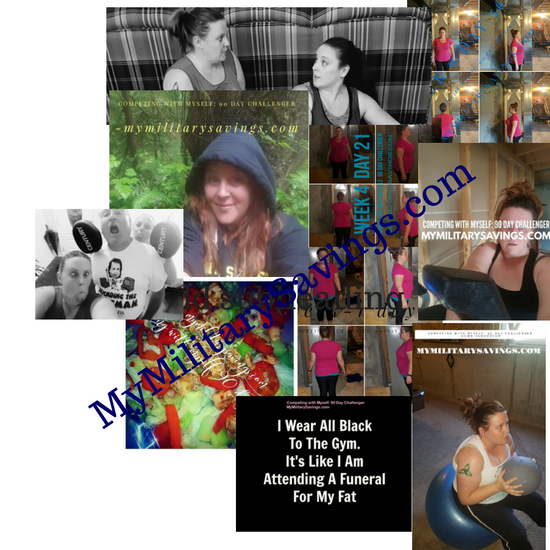 DISCLAIMER: The information presented on this site is by no way intended as medical advice or as a substitute for medical counseling. The information should be used in conjunction with the guidance and care of your physician. Consult your physician before beginning any exercise and nutrition program. If you choose not to obtain the consent of your physician and/or work with your physician throughout the duration of your time using the recommendations on this site, you are agreeing to accept full responsibility for your actions. By continuing with the programs, exercises, advice, information or diets found here you recognize that despite all precautions on the part of MyMilitarySavings, there are risks of injury or illness which can occur because of your use of the aforementioned information and you expressly assume such risks and waive, relinquish and release any claim which you may have against MyMilitarySavings or its affiliates as a result of any future physical injury or illness incurred in connection with, or as a result of, use or misuse of the programs, exercises, advice, diets and/or information found on this site.