Dune Jewelry Review: Wear Your Memories Forever (+ Military Discount!)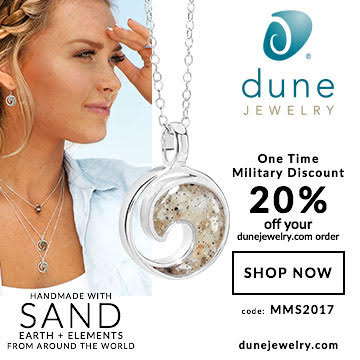 I'm a sucker for nice jewelry…I mean, what girl isn't? I must admit, most of my jewelry has some sort of sentimental value to it, so when I discovered
Dune Jewelry
, I was hooked!
Dune Jewelry lets you take sand, stone, or whatever element from the earth from wherever you choose and capsulate it into beautiful jewelry that you can wear!  I absolutely fell in love with the jewelry when I saw it online, as well as the fabulous idea behind it and could not wait to get my rings!!  
I think Dune Jewelry is perfect for military spouses and families because:
If our spouse is deployed, we can have them send a piece of where they are stationed to us and we can submit it directly to Dune Jewelry, and they do the rest!

We can capture a piece of our past duty stations that we have loved to always have it   with us…since reality is we move and travel ALL the time!

We can have a piece of "home" with us since most of us do not live anywhere close to it.

They make perfect gifts for our extended family – we can send them a part of where we are stationed.

Great conversation piece! We get to share stories about all of our military life adventures to friends and family!

Dune Jewelry

is a woman-owned company, and was founded by Holly Daniels Christensen.

On top of it all, Dune Jewelry has a Lifetime Warranty on all of their pieces!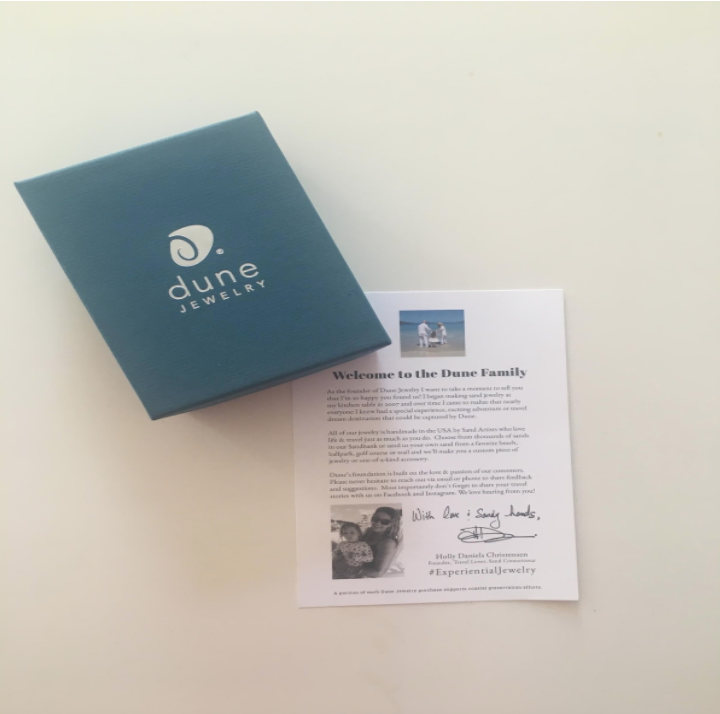 These pieces are a beautiful reminder of where we're from, where we've been, and maybe even where we are going. They are great conversation pieces to boot! Not only do I love the jewelry, but also the company itself…all of their jewelry is made in the United States, and a portion of all purchases is given back to help coastal preservation efforts.
When I ordered my first piece, I had such a hard time picking something out because I fell in love with so many different styles and designs! But, the process itself was was super easy and simple –  all I did was:
Visited

DuneJewelry.com

and picked what I wanted (when I could finally decide!)

Added the element of my choosing from their element banks (they have elements from all over the world). If you don't want to choose from their banks, you can send in an element that you have collected and they will incorporate it into your jewelry!

Waited for the postman patiently. Once I saw my personalized creations, I jumped up and down and showed everyone I could!
I chose three simple stacking rings, each with different elements of places I hold dear — Manhattan Beach, California (far left), Naples Beach, Florida (middle), and Omaha, Nebraska (onthe right) — and I LOVE THEM! Now every time I wear them I will think about all those places and they bring a smile to my face ☺ You should definitely check them out at DuneJewelry.com. In fact, right now through 10/31/17, you can snag a special one-time 20% OFF military discount with coupon code MMS2017 at checkout!
I would love to see pictures of what you guys get and the meaning of stories behind them, so please share when you get your jewelry in the comments below!