Greek Yogurt based Ranch Dip!
School is out for the summer, which for parents means that food bills are about to sky rocket. As a mom of boys, my kids are constantly hungry, and usually ask for a snack somewhere between second breakfast and the third lunches they have eaten… all before 2pm. I am running out of ideas for healthy snacks, that they will actually continue to eat. I guess that I am one of the lucky parents whose kids will eat veggies, so we tend to keep lots of them in the fridge year round. These come in especially handy when you get the craving for something delicious, but there is not chocolate left in the house. But this one is even better (I feel like I should yell, BUT WAIT THERE IS MORE). Everyone has those summer activities that keep them on the go, and in our case, we live at the pool every day all day long. As soon as mom has had enough coffee to drive straight, we head out. Grab a cooler, throw your snacks and water, and off we go!
When my neighbor had us over for dinner recently, she served this dip that was out of this world!! My kids could not stop eating it! So of course, I asked her for the recipe. TWO INGREDIENTS, and super fast to make?? Yes please!! Start to finish – including clean up was ten minutes. What is this delicious nectar? Your favorite Greek yogurt, and a package of Ranch Dip dry seasoning for Greek yogurt.
All you need is:
1/2 cup of your favorite plain Greek Yogurt
ONE package of the seasoning.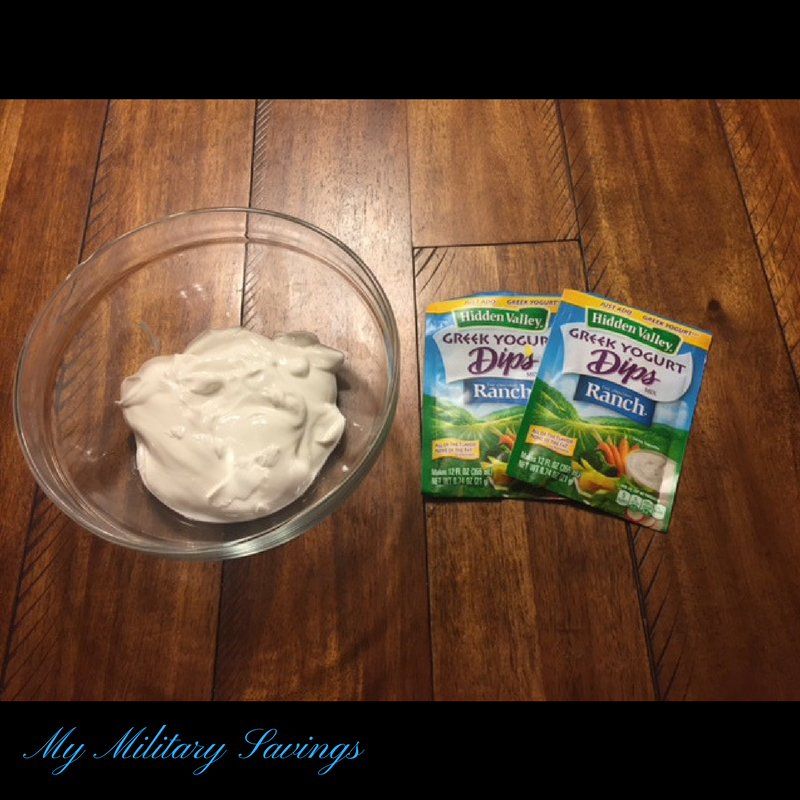 Mix, chill in the fridge for 30 minutes, then serve with your favorite veggies! Perfectly portable, easy to double or quadruple the recipe (and you will want to), and bam! Instant success! I grabbed what I needed at the commissary, including enough veggies to get us through about four days, and it was super cheap! Whatever you are in the mood for this summer, enjoy this super tasty treat!