Have You Heard of This Easy, Delicious Meal Replacement??
I've got a skinny-minny kiddo that eats like an elephant but seems to burn double the amount of calories that she ingests every single day! It's a constant chore to keep her fed and hydrated and to make sure she gets all of the necessary vitamins and minerals for her crazy active lifestyle. I'd love to swap metabolisms with her but, <sigh>, I'm stuck counting calories to make sure I'm not going overboard while I count calories for her to make sure she's getting enough. It's just the way the cookie crumbles… wait, did someone say cookie? 😆
I am fortunate that my daughter has a good sense of healthy eating. Since she is constantly with a snack in her mouth, at least I don't have to worry about her making good food choices. We recently hit the commissary to stock up our pantry (also known as HER closet… seriously) and she led the way. One of our first stops was to the granola bar section where she found these Special K® Meal Bars. I repeat, SHE gets the credit for discovering these bars of wonderfulness. I'd like to say I was the awesome Mama that spotted 'em and encouraged her to try them, but what can I say? She just knows a good thing when she sees it!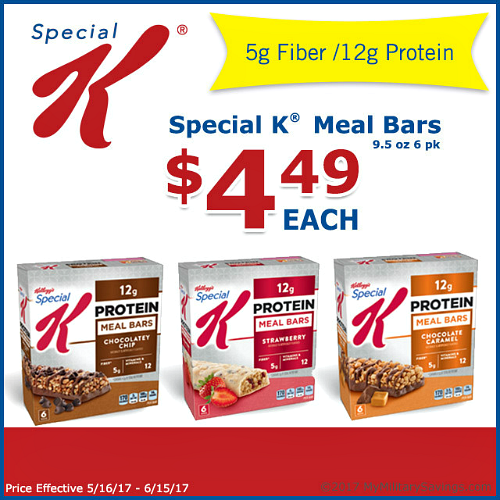 In complete honesty, I'm a little skeptical when it comes to products advertised for "protein" or "fiber" – some of those foods tend to have an… we'll call it an acquired taste. But the description of these Kellogg's Special K® Meal Bars was enough to sell us on trying them. The chocolate caramel is her favorite; it's an indulgent mix of crispy rice and golden caramel chips topped with a chocolatey drizzle over a layer of, you guessed it, even MORE chocolatey goodness. I mean, HELLO!? That could be dessert! And it's a meal bar!? YES PLEASE!!!
Now I mentioned that my daughter's least worry is watching her calorie consumption but for those of you that may be keeping a close eye on it, these Special K® bars only contain 170 calories! They also provide 12 grams of protein, 5 grams of fiber, and a variety of vitamins including Vitamin A, C, D, E, B6, B12, calcium, and iron. Only 3-4 grams of fat, depending on the flavor that you choose! And they are plentiful enough that if you are in a rush, one of these will completely suffice for a breakfast or lunch replacement. For us, well, it's a perfect meal accompaniment. 🙂
The commissary has these Special K® Meal Bars (in chocolatey chip, strawberry, and chocolate caramel – 6 packs) for only $4.49 each, but ONLY through June 15. That's a HOT DEAL, but it's also for a very limited time. If you haven't tried these yet, now is the time to go for it! Stock up while you can! You won't regret it!
For additional Commissary and Exchange savings, make sure you subscribe to MyMilitarySavings.com!