Make Your Own Paper Beads With A Froot Loops Cereal Box!!
We recycle and all, but it's a shame to see some of the neat containers that get discarded on a regular basis. Are your family members cereal lovers? Have you ever taken a minute to enjoy the bright colors and cool designs that most boxes feature? I know that sounds crazy, but really, take my favorite Froot Loops® for example. The marketing strategy is on point – a bright red box, a colorful toucan having fun goofing off on a vine, and a big bowl of sweet and delicious looking rainbow-colored cereal splashed with what appears to be ice, cold milk. How do I know the milk is ice cold? I dunno, it just gives you that feeling, doesn't it!? I'm telling you, if your kiddos can walk by Froot Loops® in the breakfast aisle without begging to buy some, I'd be amazed. My little ones have a meltdown if I say no, which I actually pretty much never do, because I enjoy the cereal just as much! Don't judge me. Anyway…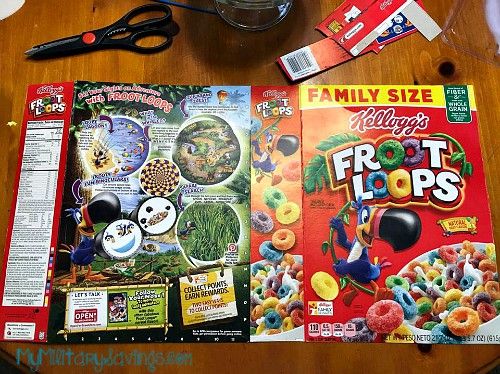 So the fact that you can CREATE something with this fun box after devouring the contents is pretty nifty, if you ask me. Paper beads… what child, or really cool adult, could resist those!? And you are recycling and repurposing in the process.
All you need is a brightly colored cereal box (go with Kellogg's Froot Loops®, just trust me on this one), a ruler, scissors, tacky glue, and yarn (or elastic string for jewelry)! A pencil and paintbrush handle may come in handy, too. Let me explain…
First, open the box and cut off the top and bottom tabs to make a large, even, rectangular shape. Then using your ruler, draw lines 3/4 of an inch thick at one end tapering down to about 1/4 of an inch at the other end. Cut these strips out.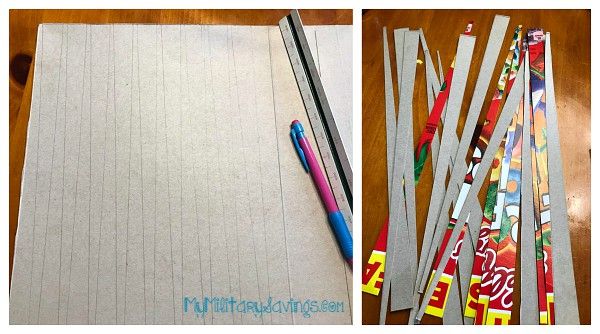 Second, begin wrapping the widest edge of your strip around a thin paintbrush handle (aha! Not using the paintbrush for what you may have thought, huh?) Anything of similar size just to begin the forming of your bead will work fine. Wrap the cardboard strip around completely and dab with tacky glue at the end to hold it together.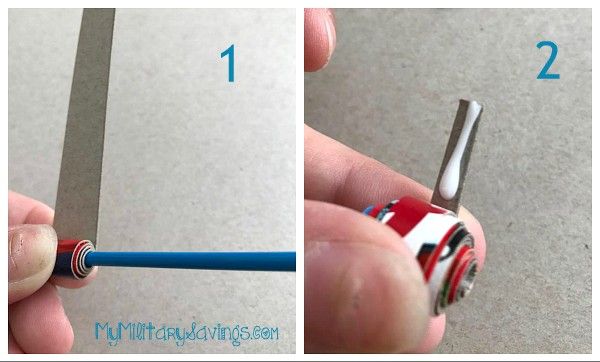 I'll be honest… in my laziness, I recruited chip clips to help do the job! 🙂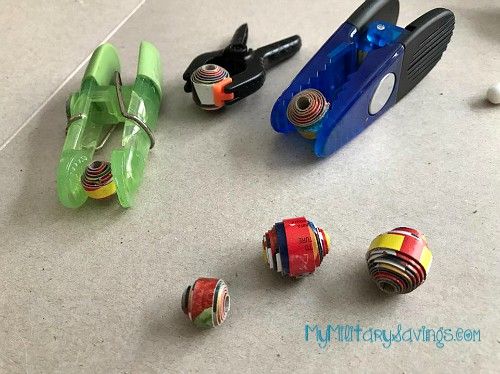 Have fun with the variety of shapes and colors that you can create. Halfway through I decided to cut some of my strips in half to make smaller beads, or I'd cut the strip at a point ending with a fun color that I liked. For example, if there was a splash of purple 2/3 up the cardboard strip, I'd cut it there so the last piece I glued around the bead would be purple!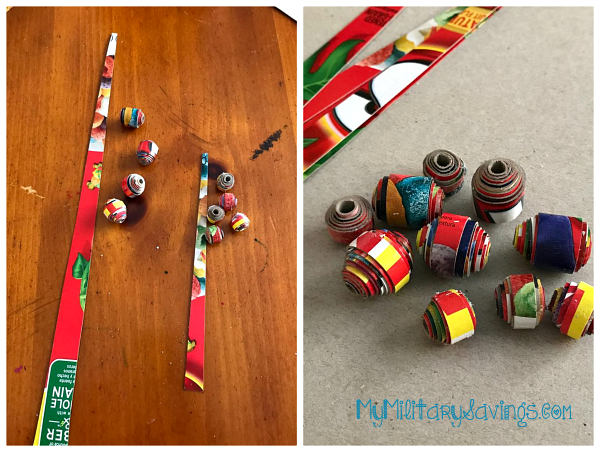 Third, once you've put together a ton of these fun little guys, string 'em up and give them to someone that will enjoy them. I don't know if you can tell by that smile but my little gal thought it was the neatest thing in the world. She was curious what I was doing with the Froot Loops® box to begin with and to see that it ended up being turned into paper beads, well… she made me feel like a rock star. Yep, I did that! I made those beads! I did it all by myself! Big hugs for Mommy! 😉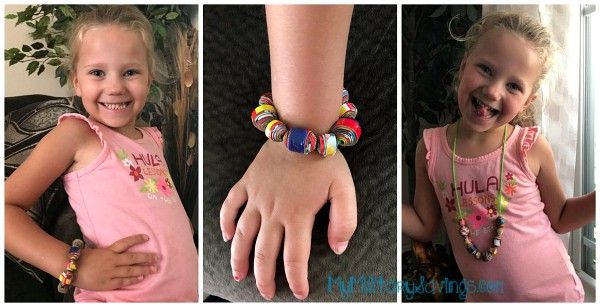 What else could you make with a cereal box? I've got a few other ideas… I'll have to share those next month! 🙂
Head to your commissary today to take advantage of the Hot Deal Kellogg's is offering through June 30, 2017.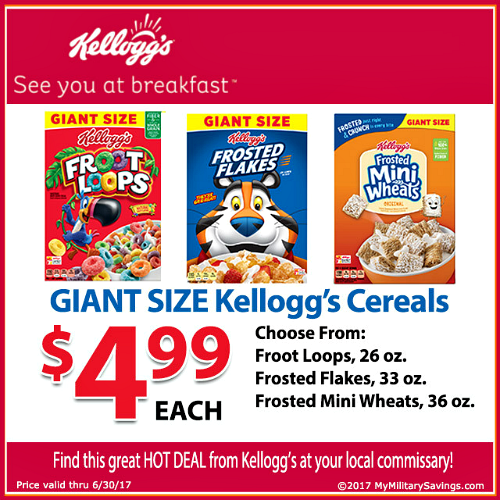 A GIANT size Froot Loops® for $4.99. Are you kidding me!?? I'm all over that!!! Haha.
Don't forget to subscribe to MyMilitarySavings.com for more fun family crafts and DIY projects, too.
Happy beading!! <3