NEW- Army Food Trucks Delivering Food To You!
Introducing a new pilot program aiming to provide a healthy meal option to the working Soldier and "meal card holder" or DoD civilian… The Army is now onboard with the Food Truck phenomenon!
Fort Stewart is the first pilot location to get to enjoy a variety of both breakfast and lunch food items with the intention to service the motor pool areas, barracks area, and the Soldier in-processing center.
Breakfast is served from 08:00-09:30 and lunch is served 11:30-13:00. Meal rates apply to BAS/DoD civilians and are $3.45 for breakfast and $5.55 for lunch. Cash only!
Breakfast items include an English muffin breakfast sandwich, a bagel sandwich, country breakfast bowl, and breakfast wraps; all meals come with a drink and choice of fruit, yogurt, or cereal. Lunch items include the Outpost burger, panini wraps and Outpost subs, an Asian specialty bowl, or a hearty scratch salad; all meals come with a side dish, dessert, and a drink!! For a more detailed menu list and additional information, visit the Ft. Stewart website here.
There are 2 Food Trucks available on Ft. Stewart and each truck will be at a different location each day. The schedule for Food Truck #1 is as follows:
Mondays – McFarland Avenue near building 1201
Tuesdays – Essayons Drive and Engineer Road
Wednesdays – 2IBCT compound center of Rally Point Road
Thursdays – 15th and McFarland Avenue
Fridays – 954 and William H. Wilson Avenue
Food Truck #2 schedule:
Monday, Wednesday, & Fridays – MRC building 200, 486 Pony Soldier Avenue
Tuesdays – Sigma and Alexander Stephen's Road
Thursdays – East Bultman Avenue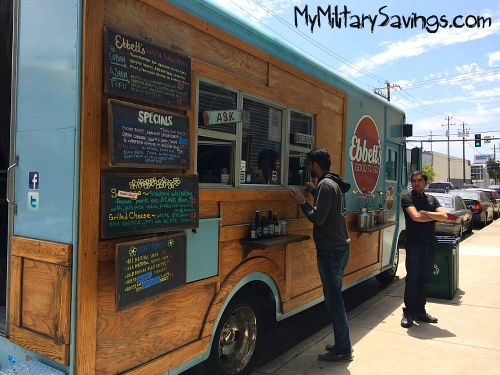 Don't miss out! Take advantage of the Garrison Dining Facilities delivering their deliciousness to you!