SERVICE PETS FOR MILITARY FAMILIES
There are all sorts of reasons to get a pet.  One big reason is for a companion service pet, especially in the Military. We have Veterans  whom need a service pet, as well we have Military Dependents (i.e.: Spouses & Children) whom may also be in need of a service pet due to a disability that is either physical, mental or emotional just like our Veterans. Where do we go to find resources to assist us when we are in need of such a service and companion?  Are there any organizations that can help with the expense of obtaining a certified trained service pet if necessary? Look no further!  Here is a list of some of the organizations that deal with Veterans as well as Military Dependents with this very subject!
US Service Dog Registry : Emotional Support & Service Dog ID, Certificate and Vest Kit
ADA Service Dog Registry: Medical, PTSD, Diabetic, Hearing etc… Custom ID Cards, Vests and more
American Human Association: Specializing in Children & Animals
America's Vet Dogs: Specializing in Veteran's & Dogs for physical, mental and emotional service needs
Assistance Service Dog Education Center : Specializing in Education as well as acquiring a service dog for Veterans as well as Military Dependents
Awesome Greyhound Adoptions: Hounds & Heroes Program
High Plains Service Dogs and Therapeutic Riding Center : Specializing in Service Dogs and Equine Assisted Therapeutic Riding Program
Merlin's Kids: Specializing in training dogs to be service animals for children.  "Shelter Dogs to Service Dogs"
Operation Here We Are: Listings of Organizations and information, to include news articles and scam warnings dealing with Veteran's (Military Families) and service dogs.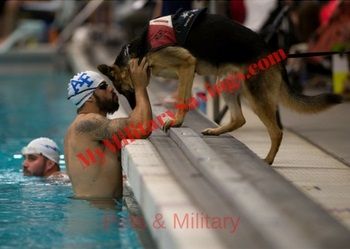 I have listed a few websites to include one that lists several websites in addition to other information dealing with Military Veteran's as well as Military Families and service companion dogs.  You can also do a google search of your own, ask your Primary Care Manager (PCM) or even contact Military OneSource to help you with researching information as well as resources for obtaining, training and certification of service animals.   You may want to contact Tricare to see if they have information for you, your child or Service Member's eligibility of a service dog and if they have any resources available through them or know of any resources available that would fit you, your child or Service Member's needs.
Be sure when researching for yourself and contacting any organization you find yourself or in this article that you always verify validity of their organization.  The Better Business Bureau (BBB) is one great resource for checking into an organization or business.
With so many resources and informational available to you via the world wide web, it can feel overwhelming… TRUST me, I know!  This is why I would speak with my PCM as well as with Military OneSource to assist me with the information and resources available out there.  It can feel like an endless ocean when you go surfing on the web and even like you're in a Tsunami drowning in a bottomless sea of sites.
I wish you luck on your search! If you would like to share any information dealing with service animals and your experience please comment below.
DISCLAIMER: MyMilitarySavings.com was not compensated by the company, service or product mentioned in this blog. This is strictly the honest opinions, findings, beliefs, and/or experiences of the author.  The views and opinions expressed in this blog are purely the bloggers' own.  Any claims, statistic, quotes or other representation about a product or service should be verified with the manufacturer, provider or party in question.  MyMilitarySavings.com is not liable for any risks injury or illness that may occur if you choose to act upon the bloggers' suggestions stated in this blog.