El Paso Downtown Street Festival October 5th-6th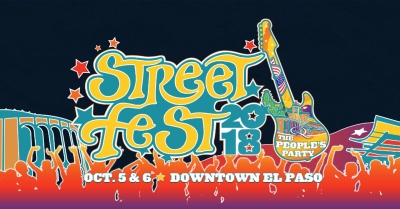 The Downtown El Paso Street Festival, locally known as Streetfest, is coming the first weekend in October. This annual event, usually held in June, has been moved to October so attendees can enjoy the city's "fall-like" temperatures http://elpasodowntownstreetfestival.com/
Calling all rock fan! Streetfest's lineup is chock full of rockers including Jonathon Davis of Korn, Dennis DeYoung and the Music of STYX and Jefferson Starship just to name a few. With four stages, visitors can experience live music throughout the venue. What's goes better with rock-n-roll than hot cars? Head inside the Convention Center to catch a glimpse of the custom vehicles competing in the O'Reilly's Auto Parts Champion Custom Car, Truck & Motorcycle Show.
This year's Streetfest will include the USO Military Village with interactive exhibits, live music and an Armed Forces booth which will be open 4:00-8:00 pm each day. Food and beverages will be available for purchase and this event is open to all ages.
Here is what you need to know: Streetfest is held October 5th-6th 4:00-12:00 am each day. It takes place downtown El Paso around the convention center. Tickets can be purchased online at https://www.universe.com/events/2018-el-paso-downtown-street-festival-tickets-PM2G8X , general admission for adults is $15.00, $5.00 for children 5-12 and $65.00 for VIP tickets.