Fishing In The Park February 17th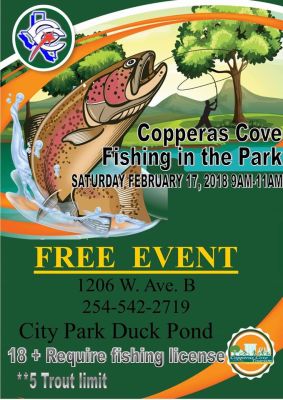 Do you have a fisherman in your family or maybe just someone that loves to fish even if they aren't the worlds greatest. This is a great family event if you want to just go out relax and teach the kids how to fish as well. Pack a breakfast and lunch picnic and have a family filled day out at the duck pond.
Here are the details:
Join us for a relaxing morning of fishing and family fun @ the City Park Duck Pond. The Texas Parks and Wildlife will release Finger Length Rainbow Trout into the Pond (5 trout limit). The event is free. Ages 18 and up need valid fishing license (kids don't need a license during event hours).
For more information: Click Here