Gillis Hill Farm Open For The 2018 Season!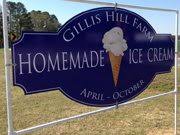 Gillis Hill Farm is now open for the season! This is a great way to spend an afternoon with (or without!) your little ones!
The Gillis family has been farming on the property for over 200 years and still operates the farm today! The farm has a seasonal produce stand, but the real treat is the homemade ice cream! There is a flavor of the month, this months is strawberry. It gets better though, with the purchase of ice cream, you can do a self guided, walking tour of the farm!
There are plenty of animals to see, including cows, goats, chickens, bunnies, horses and ducks! This is a great place to take the kids to run and play while exploring a real working farm!
Hours are from 11 a.m. until 7 p.m. Monday through Saturday.
Walking tours are only offered during ice cream season, which will run through October. Click Here for more info!