I've been WAITING for this Christmas version of Nerdy Nibbles. I'm so excited guys. It's time for HARRY POTTER! YAY! I've been planning what to do for months and then completely forgot that, hey, we're PCSing across the country in December. Duh, Amber. So my wonderful Harry Potter plans had to be condensed. Boo. There are a lot of Harry Potter options out there though, so this isn't the last time you'll see this theme! With a half packed kitchen, I managed to whip up Molly Weasley's Meat Pie, some butterbeer fudge and even butterbeer to drink! Because, HARRY POTTER!
Molly Weasley's Meat Pie. I definitely relate to Molly because I feel like I'm ALWAYS feeding someone! This meat pie is so warm and filling. Perfect for a cold December night. I used a few shortcuts to make it even easier and had time to cut out a little lightning bolt! 😉
This is a one pan + pie pan kind of dish. In the pan I browned 1 pound of sweet Italian sausage (any ground meat will work!) then added 1 tablespoon minced garlic, 3 cups of frozen cubed potatoes (I used the O'Brien version with bell peppers) 2 tablespoons of all purpose flour, and 1 1/2 cups of broth. Season with salt and pepper to taste. Let it simmer, thicken, then add it to a store bought pie crust. Of course you can use homemade crust. I cut the lightning bolt into the top crust before adding it to the top of the pie. Bake at 375 for 30-45 minutes or until your crust is golden brown. Let it rest for 5 minutes before serving. SO. GOOD.
For dessert I whipped up some Butterbeer Fudge. It was SUPER EASY! The trick to easy fudge, in my opinion, is to spray the 8×8 dish with cooking spray, add parchment paper, and spray the paper as well. This makes for easy slicing and serving the fudge when it's ready.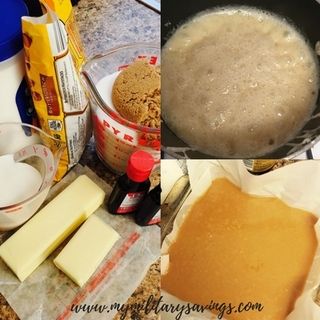 In a medium saucepan, melt 3/4 cup of butter, 1/2 cup of half & half, a small jar (7 oz) of marshmallow cream, 2 cups of sugar, and 1/2 cup packed brown sugar. Bring it all to a boil and let it boil for 5 minutes. Remove from heat and add 1.5 teaspoons of butter extract, 1.5 teaspoons of rum extract, and a bag (11 oz) of butterscotch chips. Stir until the chips are melted. Or mostly melted in my case because I'm too impatient! HA! Pour into the greased pan and chill in the fridge for a few hours. It's very rich and very sweet and oh so decadent.
I did quite a bit of research on butterbeer recipes and holy cow! There are A LOT of different versions! I went with an easier version that had just a few ingredients. There aren't really any measurements either. I based it off taste. Mix a couple tablespoons of butterscotch syrup (I think caramel sauce would work too!) with a teaspoon or so of rum extract. Add it to a glass of cream soda and mix well. You can use whipped cream as a topping, but a lot of recipes use marshmallow cream so I wanted to try it. It was fun! I added a shot of spiced rum to mine and called it a day! 😉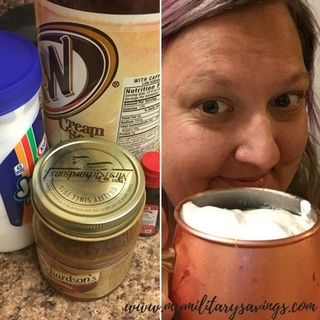 I hope everyone has a great holiday season! Once we get settled in our new place, I'll have a fun year of Nerdy Nibbles coming up!