I know I mentioned this last time, but October is one of my FAVORITE months! Not only do we get to celebrate Halloween and cozy up with the cooler temps of Fall, but it's also the premiere of The Walking Dead! YES!! Who doesn't love Zombies? I decided to plan a fun meal to coincide with the premiere of season 7 this Sunday! Even if you don't watch The Walking Dead, this is a great menu for a Halloween party! Bonus, it's SUPER EASY!
First up we have Zombie Eyeballs! I used a bottle of Italian dressing (roasted red pepper Italian to be exact) as the base and topped the sauce with mozzarella balls. You can buy these as pre-formed balls or the tinier pearls or even buy a large package of fresh mozzarella and form the balls with your hands. I would definitely use the fresh mozzarella you find in the deli case for easier molding.  Top your eyeballs with thinly sliced olives. I used green olives with a pimiento pupil, but black olives would work great too! I think next time I'll marinate the mozzarella balls in the dressing overnight for a more bloodshot look!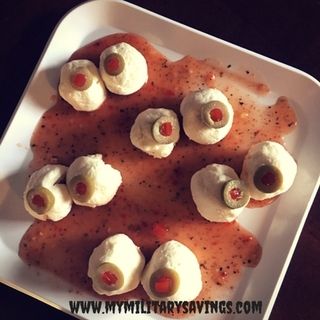 For the main course we have these CRAZY looking bloody hot dogs fingers. These came together so quick and easy and the kids LOVED them! I used a small paring knife to make a few slices along the hot dog to resemble two knuckles. I simmered the hot dogs in water for about 10 minutes and then used a vegetable peeler to peel the "finger nail" for the finger. EW right? Hahaha! A smattering of ketchup really brings the bloody fingers together on the bun. Bon Appétit my little zombie friends!
Last, but certainly not least, we have dessert! These brainy cupcakes are to die for! 😉 I used a store bought vanilla cake mix, raspberry preserves, and a store bought tub of vanilla frosting. I added 2 heaping tablespoons of powdered sugar to the frosting to stiffen it up and just a dab of red food coloring to get that pinky brainy color.  I injected my cupcakes with the raspberry jam for a little surprise when you bite into it. The tartness really helped balance the sweetness of the cupcake and frosting as well. If you don't have a piping bag and tips, you can use a ziploc bag with the corner cut off. EASY! I wish I had cut the centers out a bit more to add more jam so go ahead and do that if you want them deliciously oozy!
To frost, add a quick layer on the top. This doesn't have to be perfect or even smooth. Pipe two lines down the center of each cupcake and then two rows of squiggles on each side. As you can see mine are far from perfect and they don't have to be! They're brains! This dinner and dessert combo was so easy to put together and so much fun to eat. My kids are too young for The Walking Dead, but they are aware of the zombie craze so to ask for dessert, I made them walk like zombies and ask for "Brrraaaiinnnsssssss." It was AWESOME!
I can't wait to serve more brain cupcakes this weekend during The Walking Dead premiere! The only thing that could make this better would be a tasty adult beverage. I'm thinking blood red sangria! Leave a comment down below with your Halloween plans and even your Walking Dead predictions!! EEK!