Nerdy Nibbles
Welcome to the first installment of Nerdy Nibbles! We are quite the geeky family so every month I'll be posting some fun (and easy) pop culture inspired recipes. It's Back to School here finally and the boys and I wanted to do something FUN to celebrate. We spent a lot of the summer walking around collecting Pokemon in the new app, Pokemon Go. Talk about a blast from the past! I've had so much fun running around with the kids and getting to know our nerdy neighbors while attempting to catch them all! With Pokemon being so popular right now, it was easy to pick what we would be trying this month. A little Pokemon Party!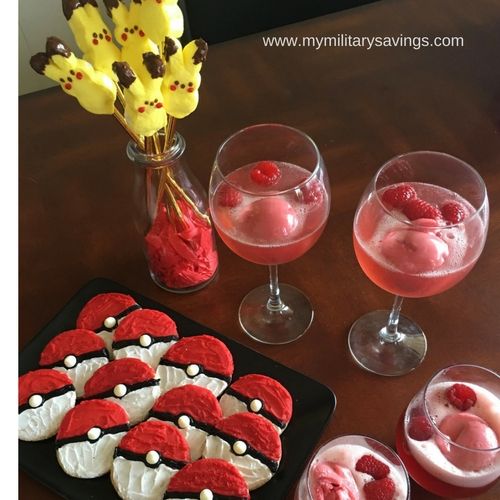 These Pikachu Pops are so EASY! I'm all about semi-homemade so the list is very simple with easy to find ingredients. I did have to order some peeps from Amazon, but it was worth it. Hooray for the internet! My 5 year old is OBSESSED with Pikachu and these turned out so cute!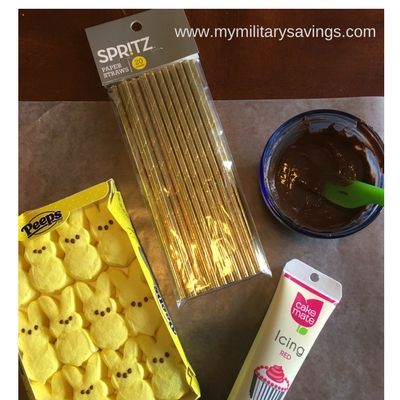 Ingredients: 
1 package of Peeps
1/2 cup of chocolate chips, melted (I added a teaspoon of shortening for gloss)
Red icing or frosting
Lollipop sticks or decorative straws, optional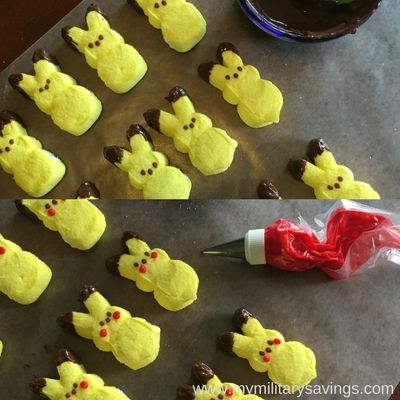 Directions: 
For the ears, you can either dunk each one in the melted chocolate or use a knife to spread it on. You only need chocolate on half the ears. 2. Next, just add little red dots to the cheeks. You have a couple of options here. I like the icing tubes where I can attach the decorating tip directly to the tube (Not the kind I had, unfortunately! Ha!) Otherwise, you can use a ziploc bag with a decorating tip (if you're still trying to convince your spouse you would use them all the time) or just cut a small tip off the corner of the bag. That's it! Let the chocolate harden and then add them to the sticks if you want to get super fancy 😉
Next we made Pokeball cookies! Did I make homemade sugar cookies? No. Can you use your super awesome homemade sugar cookie recipe? ABSOLUTELY! I also just bought red, white, and black frosting to make it easier on myself, but you can definitely make your own frosting as well. For the center of the ball, I used a white chocolate chip, but you could easily substitute a mini marshmallow or even just a dollop of white frosting.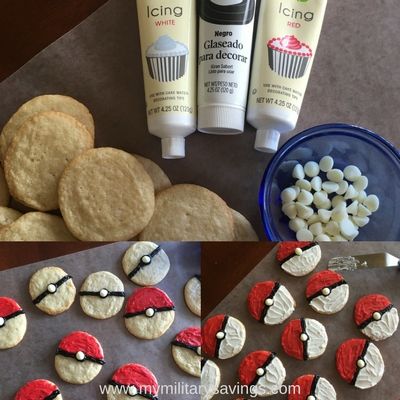 I used the ziploc bag as my frosting bag and piped the black center line first, adding the chip to it. Half the ball is red and the other half is white. I used a knife (or offset spatula) to smooth and cover the cookie. Voila! Easy peasy Pokeball sugar cookies. These ended up being my 10 year old's favorite!
Now, I couldn't throw a back to school party without a little something for the grownups! We did, after all, survive the summer! There are two ways to make this drink.. The first, for the kids, we named Jigglypuff Juice! And the adults get the super fancy Jigglypuff Punch. (For those that don't know, Jigglypuff is a most adorable pink Pokemon!)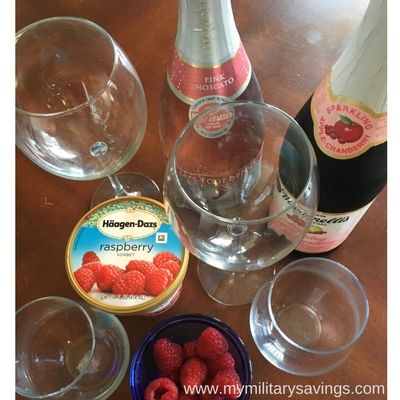 Ingredients:
Sparkling cider or juice for the kids (We chose Apple Cranberry)
Pink sparkling wine or champagne for the adults
Raspberry sorbet
Fresh raspberries
Add your juice or wine to the glass. Put 1-2 scoops of raspberry sorbet in each glass. Top with fresh raspberries. Sit back and enjoy. School is back in session!
Let me know in the comments below how these recipes worked for you! And stay tuned for more Nerdy Nibbles!