So let's talk makeup! How do you really feel about your mascara? Do you lack volume or length? Do you want that pesky smudging in the crease to stop? Well I have all the answers.. ok, Neutrogena® actually has all the answers! If you haven't tried Neutrogena® Cosmetics you are truly missing out. They offer 3 amazing mascaras for all of your eyelash needs.
First, Neutrogena® Crease Proof Lasting Eye Shadow helps not only leave your lashes looking great, but they won't smudge in any of those tiny eye creases. Next, Healthy Length Mascara will give you that beautiful, natural looking length that I know we all want. Last, Healthy Volume® Mascara will leave your lashes looking full and beautiful, even on those days where it's "just a mascara and lip gloss" kind of day. Oh and speaking of lip gloss, you have to try their MoistureShine® Gloss! This gloss will leave your lips feeling moisturized, all with a touch of shine.
And Neutrogena® Cosmetics gets even better, because right now ONLY at your local AAFES Exchange, you can pickup your favorite Neutrogena® Cosmetics mascara and their amazing MoistureShine® Gloss for only $7.95 each!! But you have to hurry, because these deals are only good until April 30, 2018.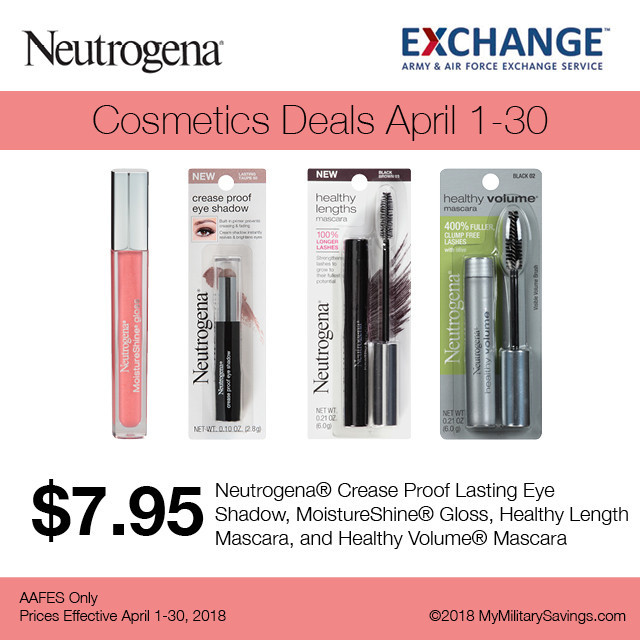 And when the day is over don't forget to use Neutrogena® Makeup remover wipes! These wipes are my go to after a long day with a face full of makeup!
Do you want more? Then you need to hop on over to https://www.mymilitarysavings.com/brands/johnson-and-johnson-aafes-exchange to get your beauty fix. Check out all the steals and deals that Neutrogena® has to offer. From makeup to skin care, you will find everything you need! Don't forget to get to your local exchange today to pick up the latest products from Neutrogena®. And don't forget to download the Johnson & Johnson Beauty & Baby Club App to get tips, coupons, and a great rebate offer!