Operations Deploy Your Dress August 23rd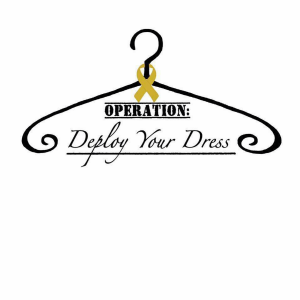 Last week, my husband informed me that his company's ball is next month. I sighed a bit and reluctantly said "sure, sounds fun". Don't misunderstand, I love going to balls, it's one of the few times my husband and I get a night out without the kids. I even enjoy dressing up, (what girl doesn't) — it's finding the dress that's the issue!! However, with the help of Operation Deploy Your Dress, I found a beautiful dress in less than an hour and the best part is it was free!
Operation Deploy Your Dress http://www.operationdeployyourdress.com/ started right here at Ft Bliss in 2015 when several spouses organized a dress swap among their units to help offset the cost of purchasing formal wear for balls. The dress swap quickly became a full-fledged store operating with the help of donations and volunteers. This genius idea spread and within a year two more installations opened their own Operation Deploy Your Dress locations.
The Ft Bliss ODYD store is located in the Trading Post next to the thrift shop on 1717 Marshall Rd. The store is open on Thursdays from 1:00-3:00pm. FRGs are welcomed to schedule shopping events for an upcoming ball, this is a great way to bond with your fellow spouses! All dress and accessories are donated so bring your gently used formal wear, jewelry, purses and shoes to ODYD. Pick up a new dress while donating your old dresses. Donations can be placed in the drop box outside of the store anytime. Dresses can also be mailed to FBSA-Operation Deploy Your Dress PO Box 6697 Ft Bliss, TX 79906.
During my visit to ODYD this past Thursday they had over 22,000 dresses with sizes ranging from 0-20+. It can be a bit overwhelming, but the incredible volunteers are there to help search through dresses to find the perfect fit! Due to the amount of dresses, the size of the store, large number of shoppers and the small window of time they are open, ODYD encourages shoppers to leave children at home with a sitter and asks that no strollers or shopping carts be brought into the store.
Here is what you need to know: ODYD is open on Thursday, however, keep an eye on their Facebook page for hour changes or closures https://www.facebook.com/Fort-Bliss-Operation-Deploy-Your-Dress-205875583211733/ Military ID holders will be allowed one dress and one accessory per calendar year. You must have your military ID to enter the store. Due to space, you are asked to take only two dress at a time to the fitting rooms (fitting rooms consists of two tented areas and an open bay, don't be shy just jump on in there). They are unable to hold dresses so if you think it is the one, don't put it down. Once you have found your dress and accessory you will be asked to take a photo to share with ODYD donors and sign out.
I had such a great experience at Ft Bliss Operation Deploy Your Dress. I plan to use my savings on getting glammed up for our big event!