San Elizario Historic District Walking Tour April 22nd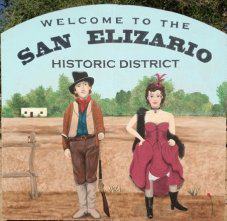 One of the best things about being stationed at Ft Bliss is the historic areas that surround our desert city.  San Elizario is a quaint historic town about 30 miles southeast of Ft Bliss.  Travel back in time with a guided historic district walking tour on the fourth Sunday of each month at noon and 3:00pm http://www.sanelizariohistoricdistrict.org/.
San Elizario is home to one of the oldest highway in America.  You can literally walk in the footsteps of the past.  Get locked up in the only jail Billy the Kid broke into.  Yes, he broke into, not out of the jail.  Visit the San Elizario Mission to see the jewel of the El Paso Mission Trail.
After you finish the tour check out the shops.  These stores are filled with beautiful handmade works of art created by local artists.  San Elizario was my family's first outing after arriving at Ft Bliss.  The people are so warm and friendly.  We picked up several pieces of artwork which will serve as a reminder of our time at Bliss.  Your last stop should be at El Bandido Cantina & Restaurant for margaritas and tacos.
Here what you need to know: To get to San Elizario take I-10 to Socorro Rd then follow it to San Elizario. The guided tour guest should meet at the Main Street Mercantile 15 minutes prior to the tour start time. Tours last about an hour and a half and is a slow walking pace.