Strawberry Season has begun at Gross Farms!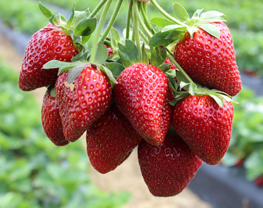 Strawberry season has come early this year! Head to Gross Farms in Sanford to pick your own strawberries!
You can wonder the pick your own strawberry patch or pick from the selection of fresh, picked that morning, berries!
The farm is open from 7:30 a.m. until 6 p.m. Monday through Saturday through late July. Sundays during strawberry season they are open from 1 until 5 p.m.
You can check out all the goods the farm has to offer at the produce barn! This includes, but is not limited to, sweet corn, tomatoes, potatoes, sweet potatoes, onions, asparagus, watermelons, cantaloupes, okra, peppers, cucumbers, peas, butterbeans and green beans.
There are plenty of activities besides strawberry picking as well. Enjoy the corn maze, picnic area, concessions, play area, 40 ft slide, or pumpkin jump! Check the website or call the number below for information regarding live entertainment.
Call (919) 498-6727 for more information.