The Sun City Baconfest April 15th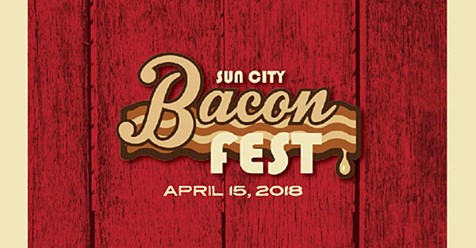 Bacon!  Need I say more?  The Sun City will be hosting an annual Baconfest in Union Plaza Sunday, April 15 https://visitelpaso.com/events/sun-city-baconfest .What better way to celebrate or recover from Tax Day than to chow down on baconlicious treats.
The festival will have live music, contests and craft vendors.  Oh, and of course bacon!  Vendors will be selling bacon-infused items for as little as $2.00.  My family went last year, we had bacon donuts, candied bacon bites, and the most delicious burrito I have ever had from the El Jefe Mobile Taqueria, it had French fries in it, OMG!
So, here's what you need to know:  The Sun City Baconfest will be held Sunday, April 15th from 11:00-6:00pm in the Downtown Union Plaza Entertainment District.  Bacon food items range in price from $2.00 to $16.00 and can be purchased with Piggy Bucks.  Piggy Bucks are coins used to purchase anything on the festival grounds, each coin is worth $2.00.  Piggy Bucks can be purchased at TFCU Piggy Bank booths located throughout Union Plaza.  No cash will be accepted by vendors.  On street parking is nearby as well as several parking garages and lots in the area.  For a complete guide to downtown parking visit http://downtownelpaso.com/parking-guide-for-inaugural-ballgame/