Super simple sweet and salty snack mix!
One of my favorite holiday traditions is giving friends, family and neighbors holiday baked goods. And since I love it so much I always end up making enough to keep some small tins on hand to give to the postman and ups delivery drivers, especially since they seem to frequent my house almost every day during the two weeks leading up to Christmas!
This mix is not only easy but versatile as well! Mix and match any kinds of cereal, you can even add nuts, popcorn, etc. The options are open to how creative you want to be. It's also a great way to clean out the pantry with what you have on hand! And you only need 5 cups of dry snack mix…the portions of each are up to you! LOVE pretzels…make half the mix pretzels! Or only use one cup of pretzels if they aren't your favorite! it's the easiest snack mix ever to make!
Ingredients
 5 cups of your favorite mix pretzels, cereals, (cheerios and chex are great!), nuts, etc.
1 stick of butter, melted
1/4 – 1/2 cup sugar (I start with the lesser amount and taste and add more if I need it, just depends on what cereals I've chosen each time, honey nut cereal needs less sugar than say plain cereal)
1 tbsp cinnamon
1/2 tbsp coarse sea salt
Mix all the dry ingredients in a large bowl.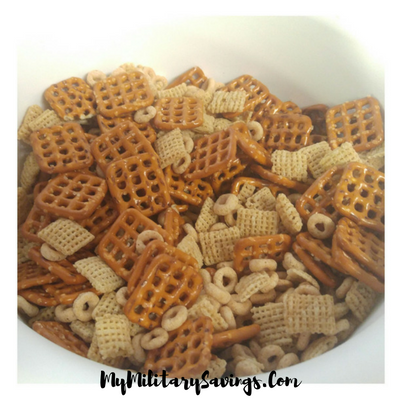 Pour butter, stir, then add in sugar, cinnamon, and salt.
Mix again until evenly coated.
On a foil or parchment lined baking sheet, spread the snack mix out and bake at 350 degrees for 10 mins.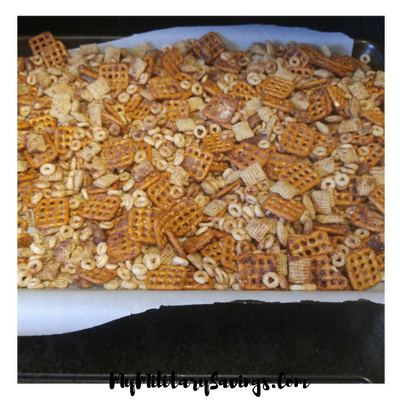 Once cool, move to an airtight container, or place straight into a large bowl for snacking,
Or for gifting!