Apple of My Eye Cookies
I will be honest when I say I am not the best baker and my kiddos are always asking for something sweet to eat. Well, luckily Minute Maid Apple Juice saved the day! This recipe was not only pretty simple to follow, it also involved using both of my kids favorite fruit and juice! Apples and Minute Maid Apple Juice are a big deal in my house so they are kept in stock regularly. They love the taste of Minute Maid Apple Juice, so I knew they would love these cookies! What's even better is that they store very well, so they have a nice treat everyday of the week after the long school day!
What You Need
▪1 cup packed brown sugar
▪½ cup butter or margarine, softened
▪2 teaspoons Minute Maid Apple Juice
▪1 egg
▪1 ½ cups all-purpose flour
▪1 teaspoon ground nutmeg
▪½ teaspoon salt
▪½ teaspoon baking soda
▪1 medium apple, chopped (1 cup)
Instructions
1Heat oven to 375º. Grease cookie sheet with shortening. Beat brown sugar, butter, apple juice, and egg in large bowl with electric mixer on medium speed until light and fluffy. Stir in flour, nutmeg, salt and baking soda. Stir in apple.
2Drop dough by rounded teaspoonful about 2 inches apart onto cookie sheet.
3Bake 8 to 10 minutes or until light brown. Remove from cookie sheet to wire rack; cool. Store loosely covered.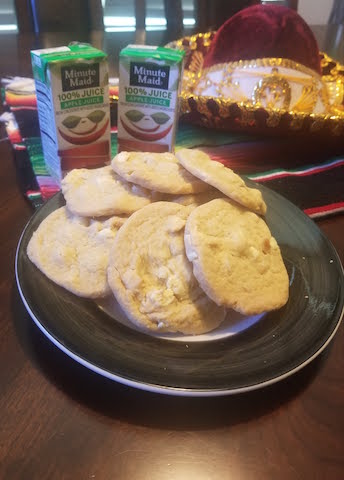 These cookies turned out amazing and my children loved them! You can see the bits and pieces of apple in the cookies and then they just kind of melt in your mouth when you bite into them. Yes, that means I had one, but honestly how could I resist? Apple cookies with Minute Maid Apple Juice! These cookies were a winner in my book before I even baked them. Check out the happiness on these faces: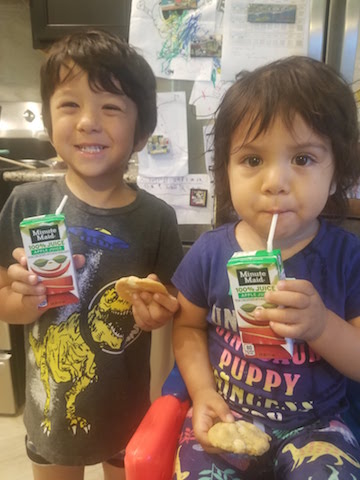 And right now at local commissary, you can not only find Minute Maid Apple Juice, but you can check out this amazing in-store coupon offer from DASANI®!
You can find the recipe and more great Coca-Cola savings by clicking here: www.cocacolamilitary.com