Cupcake Diaries – Italian Ricotta With Whipped Mascarpone Frosting
This month's Cupcake Diaries was inspired by my mother as we just celebrated Mother's 🌸 Day last weekend. If you've been following my dessert adventures then you probably know that I enjoy showing my love through food… it just feels good to make other people's bellies happy. If you are considered a friend or family member I have at some point given you treats of any random sort (although cupcakes are a personal favorite!) because they are the equivalent of friendship kisses! 💋
This Mother's Day my brother and I went all out with an entire dinner planned for our mom; he was on marinating-and-grilling-the-chicken duty while I put together side dishes and, of course, dessert. 🍰 I couldn't whip up just any 'ole thang though. This had to be specific to my mother's tastes. She seems to lose her sweet tooth a bit more with each year that passes (good golly please please please don't let me fall in those same footsteps!) yet she can still appreciate a nice, mild dessert. So what did that mean? I immediately thought of our experiences living in Germany and how the cakes and pastries there weren't nearly as sweet as what you find in America. I mean, cheesecake in Germany actually tastes like cheese for goodness sake. So I went with it. Ricotta and mascarpone sounded good. Light and fluffy. A touch of sweetness but nothing too rich. The perfect cuppy cake combination for my perfect, beloved Mama. 💖
If this sounds right up your alley then please don't hesitate to give these cupcakes a shot! The ingredients may seem a bit intimidating but the end result is scrumpdillyumtious! This is what you'll need: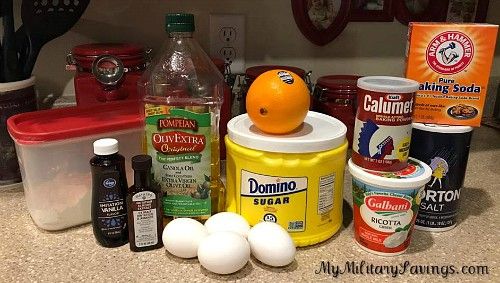 2 cups full-fat ricotta
2/3 cup olive oil
2 cups sugar
1 tsp vanilla extract
½ tsp almond extract
Zest of an orange
4 large eggs
3 cups flour
3 tsp baking powder
1/2 tsp baking soda
1/2 tsp salt
For the frosting you'll need:
1 cup heavy whipping cream
16 oz. mascarpone, room temperature
3/4 – 1 cup confectioners sugar
To make the magic happen:
Step 1) Beat the first 6 ingredients together until well blended and then add the eggs one at a time until completely incorporated. The eggs must be combined separately to guarantee that they mix in evenly with the batter.
Step 2) Sift all of the dry ingredients and slowly add to the wet batter. Beat until just combined.
Step 3) Fill cupcake liners 3/4 full (recipe yields 24 cupcakes) and bake for 20 minutes at 350 degrees F.
Step 4) The whipped mascarpone frosting can be prepared ahead of time and stored in the refrigerator or it can be assembled as the cupcakes are completely cooling. Begin by beating the confectioners sugar (use 3/4 cup at this point) with the mascarpone. Once it is creamy then add a few tablespoons of heavy whipping cream and beat until combined. Continue this method of adding cream a bit at a time and whip until the frosting becomes thick and spreadable. Add the extra 1/4 cup of confectioners sugar at this point if you feel the frosting needs it to achieve the desired consistency.
Step 5) This frosting will be too thick to pipe with a bag and decorative tip. However, at the same time, if left at room temperature too long then the cream may tend to separate a bit from the sugar and mascarpone mix making the frosting a bit watery (have no fear, simply beat together again if this occurs). It doesn't sound like it makes any sense now but you will see what I mean. The solution? Refrigerate the frosting for 5-10 minutes before applying it to your yummy cuppy cakes to make it easier to work with. Then put a generous scoop on top of each cupcake and smooth it down with your (clean) fingers.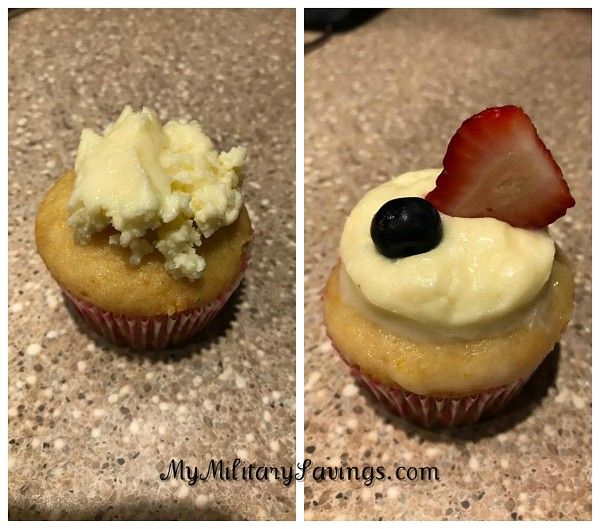 Add fresh fruit for decoration if you'd like – blueberries and strawberries were the perfect compliment to this Italian Ricotta Cupcake with Whipped Mascarpone frosting. PERFECT I tell you.
These cupcakes need to stay refrigerated until they are consumed. I do recommend leaving them out at room temperature for 15 minutes prior to eating them though for the best meld of flavors. They should keep for 4 or 5 days although I will warn you, the chances of having any leftovers will be slim to none!!
I hope you enjoy these as much as we did. I'd love to see photos of your creations! Share them below!!
If you missed last month's Cupcake Diaries, I dabbled with a coconut creme pie flavor. Check it out here!
Follow me and find more deliciousness at MyMilitarySavings.com 🙂