Driftwood Bird Mobile
We are in the middle of a PCS move so all of our household goods are currently in transit and I am living out of my mother's spare bedroom – true story. My family was previously stationed in New York but my prayers were answered and my husband was recently assigned back to Ft. Stewart, Georgia where we actually happened to have met many years ago. Fortunately for me, this is also where the rest of my immediate family lives so I am over the moon to be close to my parents again. And another plus side is that we have been able to avoid horrid hotel rooms and have temporarily shacked up with my good ole mama and papa!! Although any move is stressful enough by itself, transitioning from the cold and snow to the sun and beach has done absolute wonders for my soul. Life is full of surprises and blessings. <3
I say all of that to explain that I did not make a DIY project or family craft this week because of the (beautiful) chaos. I do, however, have plenty of previously made crafts to share with you! If you are reading this now, my Driftwood Bird Mobile must have caught your eye. This was a project that I made for my daughter's bird-themed room in NY that she loved enough to request that we pack it for her new room here in GA. I do apologize for the poor photography; these photos were snapped just prior to the packers loading up her room! I had this mobile placed right above her reading nook so when she was laid back with a book she could glance up and see this: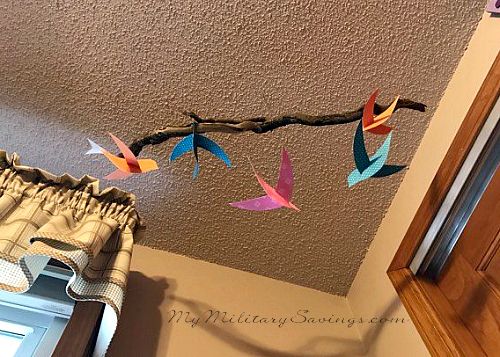 Pretty neat, huh?
I got this idea from Martha Stewart's blog but made a simpler version. I decided to put to use some driftwood that I had collected a while back because all of my family loves the beach and, well, it just looks cool. If you don't have anything similar to use, Martha Stewart gives a tutorial on making your own branches with wire and floral tape. Check out her blog here for the how-to.
Besides the driftwood, you'll also need scrapbooking paper (or decorative card stock) and fishing line. That's it!
The first step is to cut out birds on your paper. Use Martha's template for this that you can find on her blog, or grab it here. It looks like this-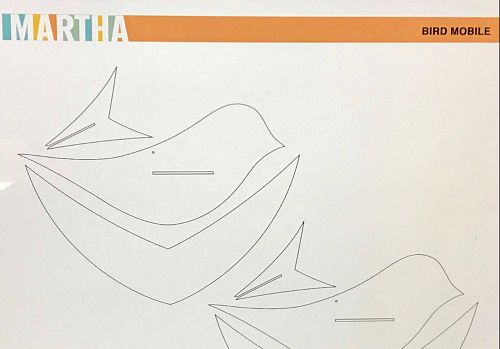 Print out the template, trace it on your paper, and then cut it out. You may notice that there are "tails" for the birds on this template that I chose not to use. It's just another change that I made to keep things simpler and it does not affect the weight of your bird making it lean farther in one direction or another. It's simply an aesthetic choice that is up to you!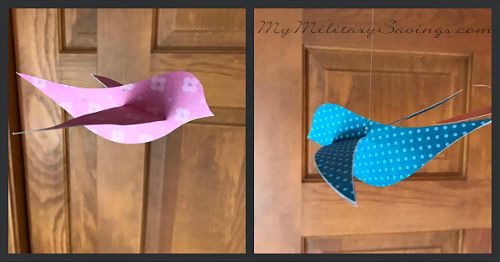 After I assembled 5 birds I made a tiny hole above the back end of the wings to hang them. There isn't an exact science to this step… you can alter the direction your birds are facing by simply adjusting the hole forward or backward a bit. The birds on my mobile are facing straight ahead but it would be really cute to have some swooping upwards or downwards. Just a thought!
I created these holes with the tip of a craft knife but you could use any sharp little point. Then thread fishing line through and tie in a knot. Leave each strand of fishing line long and you can adjust the length of each as you hang them on your driftwood.
How you will hang your birds on your wood depends on the shape of driftwood you are using. Start by tying the fishing line from one bird right in the middle of your stick. Add two more birds to each end of the stick. Then add all of the other birds you have made in between. If you'd like all of them at different heights, wrap your fishing line around the driftwood a few times to shorten the length of the line. This way you can also play with keeping each side of your mobile weighted evenly without cutting and tying, cutting and tying. Just simply wrap and rewrap if needed!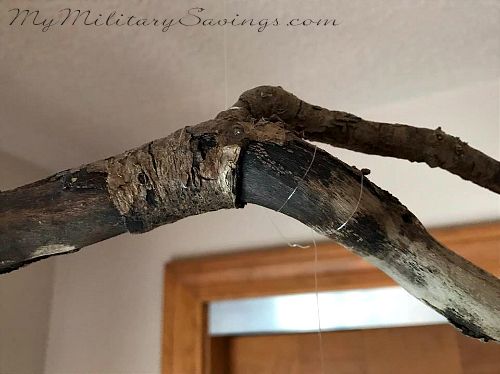 Lastly, add another string of fishing line to the middle of your driftwood to hang your mobile from a ceiling hook.
Again, I have to apologize for the poor photography because these pictures really don't do this bird mobile justice! It is quite whimsical and would be perfect for a child's room or nursery.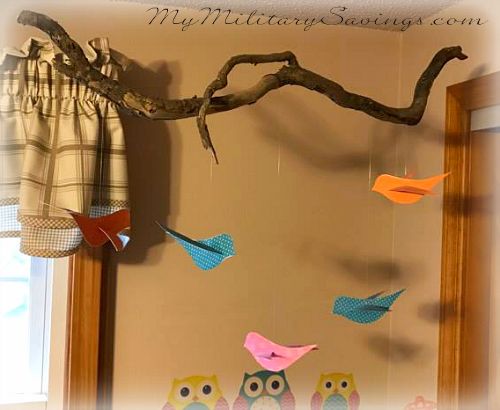 Even add some flowers to the driftwood!
If you give this project a try, I'd love to see your end results!! For more DIY projects and fun family crafts, visit MyMilitarySavings.com!