Sweet Roast Beef Delight Sandwiches
With springtime here, it's time my favorite family activity!
Road trips and picnics!
Road trips are something I didn't grow up doing, but my husband did and when we started dating, his family would always invite me along. Those are memories I will always cherish, and because of that, today my husband and I are always taking our boys out on trips to see and do things just like he did growing up.
So when we actually plan, and not decide late the night before, I love to pack a full cooler for a picnic. It's not only cost efficient but absolutely delicious cause this isn't just an old school pb&j picnic! No sir! I have several picnic sandwiches my family loves! This one is my personal favorite!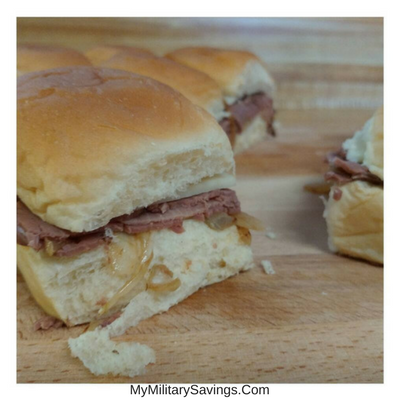 Sweet Roast beef delight sandwiches! But Don't let the name fool you… These babies are only sweet from the sweet Hawaiian rolls and the caramelized sweet onions only. Then add in your favorite white cheese and some sliced deli roast beef and your taste buds won't know what hit it!
But the secret that makes them great picnic sandwiches is you can make them a day ahead, and they only get better with time. And you can just pop them back on the sweet roll tray and into the bag, then into the cooler! Then you'll have yourself 12 mini premade sandwiches! Served with a side of my mom's pasta salad and some chips and I never even miss going to a restaurant!
Hawaiian sweet rolls,12-count
Roast beef, 1/4-1/2 lb
1 sweet onion, caramelized
Sliced provolone or any other white cheese of your liking.
Start by slicing your onion into very thin slices. Spray a hot pan with non-stick spray and immediately add your onions. Cook over high heat, stirring to evenly caramelize.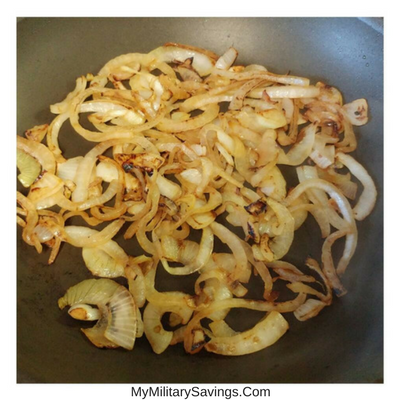 Next, slice the entire loaf of sweet rolls without separating them. Lift the top off very carefully and set aside.
Once your onions are done add them to the bottom of the sweet rolls, spreading them out evenly. You want to make sure you get some onion in every bite! Top onions with roast beef, then cheese.
Place top of bread back on, then slice into individual sandwiches.
Slide them back onto the paper tray and into the bag until your ready for your picnic…. If you can wait that long that is!