Celebrate Chocolate All Month with NABISCO!
Happy Chocolate Month! Why wait for a special day to celebrate? You can celebrate EVERYDAY with these delicious treats! Perfect for desserts or just an afternoon snack! There are more than enough reasons to celebrate each and every day, but of course, now that we are fixing to head into the Winter Games, we are ready to cheer our nations athletes on. Get ready not only for great games, but great treats! I don't know about ya'll, but I think I almost look forward to the food more than the actual games at times.
Here are some fun (and quirky) facts about chocolate:
The blood in Psycho's famous shower scene was actually chocolate syrup
At one point the Nazis plotted to assassinate Winston Churchill with an exploding bar of chocolate
The word "chocolate" comes from the Aztec word "xocoatl," which referred to the bitter, spicy drink the Aztecs made from cacao beans
The first chocolate bar was invented in 1847 by Joseph Fry
Chocolate milk is an effective post-workout recovery drink
Get more fun and crazy facts here: 41 Delicious Facts about Chocolate.
Now that you are drooling and dreaming about chocolate, print these scrumptious recipes and stock up on these sweet deals from your local commissary. Say YES to deliciousness this month!
What You Need
8 triangles (about 2-1/2 oz.) TOBLERONE Swiss Milk Chocolate with Honey and Almond Nougat
1-1/2 cups thawed COOL WHIP Whipped Topping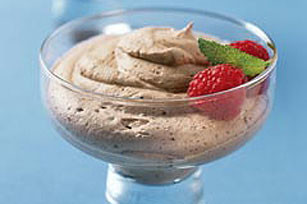 Instructions
Microwave chocolate in medium microwaveable bowl on HIGH 1 min. or until melted. Cool 1 min.
Add whipped topping; stir with wire whisk until well blended.
Refrigerate at least 5 min. Garnish with fresh berries and mint leaves, if desired.
Variation:
Prepare as directed, using TOBLERONE Swiss White Chocolate with honey and almond nougat.
Cooking time (duration)
Prep: 10 min. Total: 10 min.
Number of servings (yield)
2 servings, 1/2 cup each
Category
Dessert
Submitted by
What You Need
12 OREO Cookies
8 oz. white candy coating wafers, melted
Decorations: red, white and blue sprinkles; nonpareils; colored sugar; melted red and blue candy coating wafers; decorating icings or gels
Instructions
Insert wooden pop stick into filling in center of each cookie; place on parchment-covered baking sheet. Freeze 10 min.
Dip cookies, 1 at a time, in candy coating, turning to evenly coat all sides of each cookie with candy coating. Return to baking sheet.
Decorate as desired.
Refrigerate 30 min. or until candy coating is firm.
Cooking time (duration)
Prep: 15 min. Total: 55 min.
Number of servings (yield)
12 servings
Category
Dessert
Submitted by