Start your Thanksgiving morning with these sweet Cinnamon Turkey Rolls. Everyone will gobble, gobble, gobble them up! This recipe is perfect for getting the kids in the kitchen with you, too. And it's a super adorable Thanksgiving morning breakfast idea.
Cinnamon Turkey Rolls Ingredients
1 can (17.5 oz) Pillsbury™ Grands!™ refrigerated cinnamon rolls with icing
10 slices bacon
5 candy corns
5 red mini candy-coated chocolate candies
10 candy eyeballs
15 mini pretzel sticks, cut in half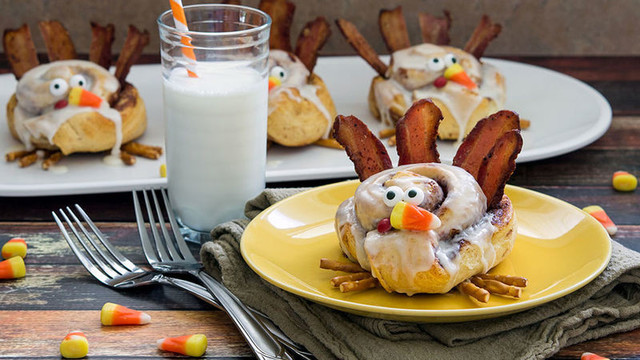 Instructions
Heat oven to 350°F. Line cookie sheet with cooking parchment paper.
Set icing aside. Separate dough into 5 rolls; place about 3 inches apart on cookie sheet. Unroll each roll about 1 inch; tuck dough into roll to create neck of turkey.
Bake 20 minutes or until light golden brown. Remove from cookie sheet to cooling rack; cool 5 minutes.
Meanwhile, cook bacon until crisp; drain on paper towel-lined plate. Cut bacon slices in half. Tuck 4 halves of bacon into back of each cinnamon roll so they stick up and look like tail feathers.
Drizzle tops of rolls with icing. Decorate turkeys with candy eyeballs, candy corn and candy-coated chocolate candies. Before serving, place halved pretzel sticks underneath each turkey to resemble turkey's feet.
What do you think of these Cinnamon Turkey Rolls by Pillsbury? Be sure to leave a comment below and tell us!
Recipe from Pillsbury.com