There are some days that you just don't feel like going to the store to buy the kiddos snacks. So I searched around and try to figure out what quick, simple snack could I whip up with ingredients I already had. Then, I got it! Lucky Charms Crispy Treats! I mean c'mon, what is better then Lucky Charms mixed with marshmallows?? Luckily, in my house, Lucky Charms rules all and so we always have a steady supply of our favorite cereal. And marshmallows, well let's just say we are also s'mores fans too, so those are pretty plentiful in our pantry. Now this batch I made was a small one because I'll be honest, I can't find my big baking dish! However, I made sure these were still a little thick so that way I could make up for them being in a small baking dish.
What You Need:
Marshmallows (I used regular size but you can use mini's if you prefer)
1 stick of butter
Lucky Charms cereal (I used about 2 cups)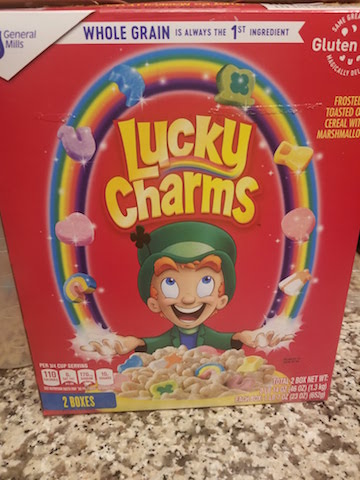 How To Make Them:
Grease your baking dish with coconut oil or butter
Melt the butter in a pan over medium heat.
Once the butter is melted, add your marshmallows (I used 1 1/2 cups) and turn the heat down to medium-low.
After everything is combined, pour your Lucky Charms into your baking dish. Then, pour the butter/marshmallow mixture on top. Stir gently to try and not crush the cereal.
Once it is all mixed and spread evenly, place into the refrigerator to set (about 30 minutes). Cut into squares and enjoy!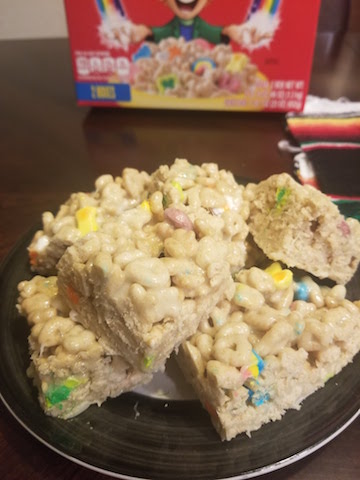 It is no secret my kiddos love these amazing little treats! They waited patiently in the kitchen while I cut up all the squares. Amaiah's little fingers tried to get close to the counter but she eventually settled into her chair and waited. These are a for sure quick and simple treat that the whole family can enjoy!
If you are looking for more coupons, savings, deals, and recipes hop on over to https://www.mymilitarysavings.com/brands/general-mills and check out everything that General Mills has to offer!