In this military lifestyle we are constantly moving around, blooming wherever we are planted. Many a times we have to make new houses our homes and adding our personal touches is what makes a cold, unfamiliar building become a warm and inviting space for our families. With our most recent PCS about a month ago, I let my two daughters decorate their rooms any way that they pleased instead of trying to help them coordinate wall photographs with matching bed spreads with curtains, etc. Not to my surprise, they wanted to add their own artwork which I support 110%, and this opened the door to so many fun crafts and experiences for us!
My youngest wanted her name displayed in her room and I came up with a handful of ways to do this… but the easiest, by far, was this Tape Art craft. By using tape to block off the areas of a picture that you don't want colored, and by allowing a child to go crazy with a blank canvas to fill in any way that they please, this leaves incredible opportunity for wonderful imagination! "Staying in the lines" is NOT a part of this craft so little ones are free to create a beautiful masterpiece with paint splatters, finger painting, globbing, dotting, stroking, smearing… all without any frustration. And it's a great chance to discuss mixing colors and the different textures created by different types of painting tools (foam brushes vs. coarse brushes vs. fine brushes vs. painting with finger tips, etc!)
For this craft you will need a canvas, painters tape, paint, and paintbrushes. A cup of water for rinsing and paper towels for wiping spills will come in handy as well. 🙂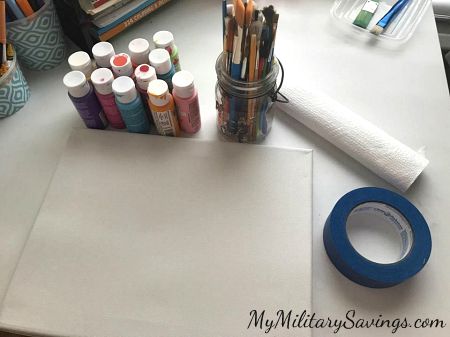 Step 1) Use the painters tape to write a name or to create a design that will show through the finished painting.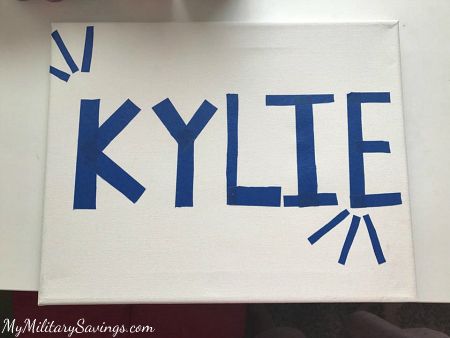 Step 2) Paint the canvas any way you wish!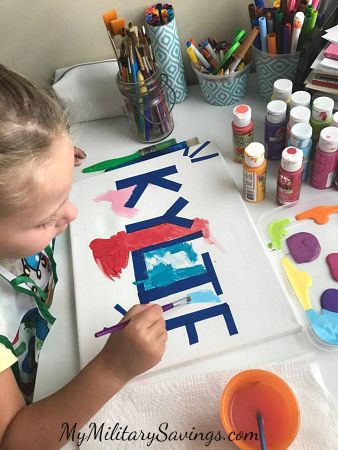 We layered, blended, and flicked paint drops everywhere. And I do mean everywhere.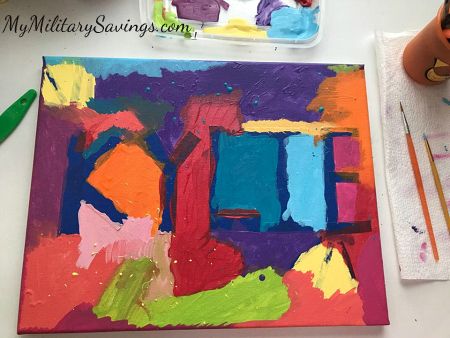 Step 3) Once the paint is dry, remove the tape and hang your creation!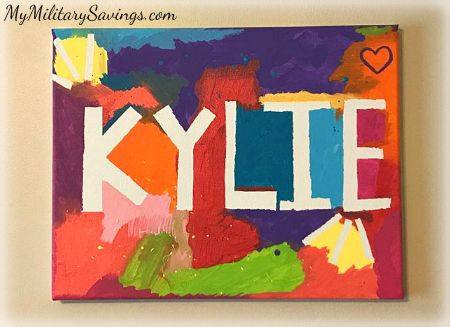 Kylie is so proud of this painting that she makes sure to show it off to everyone that enters her room. She did it "all by herself" and that is what is most important. She is such an artiste! 😉
Think of the possibilities with tape and a canvas! We made a snowflake painting last winter using this technique – check that out here for a little inspiration! What will you create with your Tape Art?
For more ideas on room decoration… check out Kylie's 3D Butterfly Wall – a fun DIY project!
For more fun family crafts, follow me at MyMilitarySavings.com!