No Sew Halter!
Who doesn't like to upcycle their wardrobe FOR FREE? And even better, what if upgrading a simple item of clothing was incredibly easy and required absolutely no talent whatsoever? If you could take an old t-shirt and turn it into a new halter top without having to sew a single stitch… would you give it a try!? That's exactly what I did because, well, what is there to lose!?
I have a drawer full of baggy tees that I typically wear as pajama tops but then I found myself getting lazy and noticed that they were becoming around-the-house tops (like, "why even get dressed today?" kind of shirts). Then I caught myself wearing one out in public at the grocery store (bleach stains and all) and I decided that I had to get a grip here. If I was going to sport these baggy tees, I at least had to make them look good! So some experimenting started to happen. Worst case scenario, I was out a few really ugly, baggy t-shirts. Best case, I would end up with a halter top like this one!
No sewing. No gluing. Completed in under 15 minutes. Not even kidding!
Grab an oversized shirt (I used an adult size LARGE), some chalk, and scissors!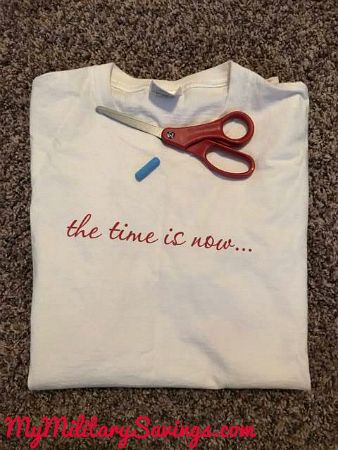 Step 1) Lay your shirt flat and trace out the first places you will cut with chalk like you see in the photo below. You will take off each sleeve and cut a V-neck, going as low as you prefer. When you cut the V section, you will not cut the back as well – only the front.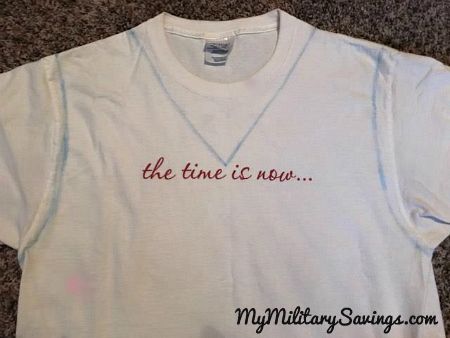 Once cut, your shirt will look like this: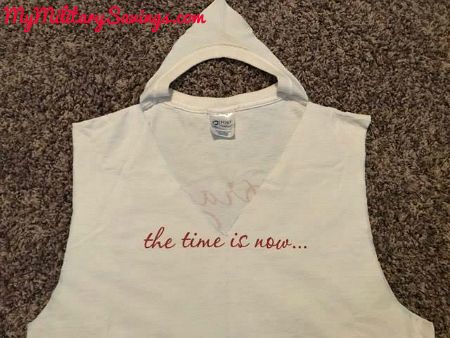 Step 2) Flip your shirt over so the back is now facing up and use the chalk to trace out your next cut marks, using the photo below as your guide. You will cut straight across the back to connect the bottoms of both arm holes and you will curve a line from the neck down towards the center area, leaving a small chunk in the middle.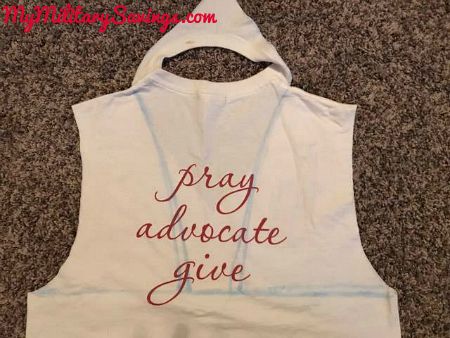 Your shirt will now look like this: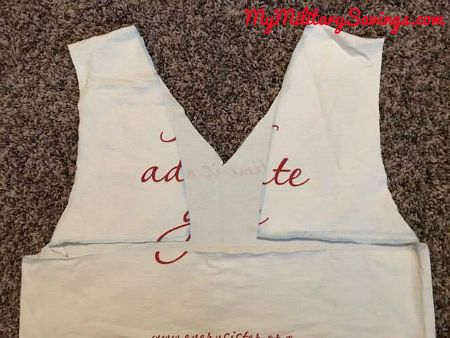 Step 3) Tie each strap at the seam that had connected the front of the shirt with the back. This just eliminates the thick and chunky appearance of that seam.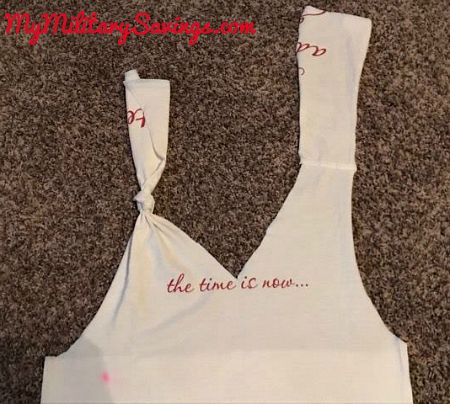 Step 4) Put the shirt on and tie the straps around your neck!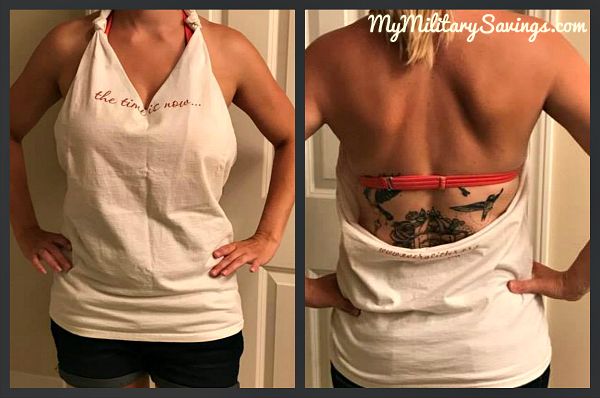 Yep, I'm aware I need to do more back exercises. But I'm gonna look awfully cute in my living room while trying to follow that exercise DVD! 🙂 I love this new halter top for working out, going to the beach, or doing all of that exciting yard work.
And it cost me – $0.00
I'm gonna come up with another t-shirt upcycle so I have a little variety in my closet… and because I just really need to thin out this mess in my pajama drawer. So stay tuned next month!
For more fun, DIY projects subscribe to MyMilitarySavings.com!