Foodie Friday is here with a super simple, 4 ingredient chocolate wonder that will satisfy your sweet and salty sides all at the same time! Now I am all about simple snacks. I have 2 kiddos that don't leave me a ton of time to make sweet eats and treats, so when I am having a chocoholic moment, I need a recipe that is quick and satisfying. And better yet, this recipe requires items I already stock up on in my house. Seriously, all you need is Nabisco Premium Crackers, butter, brown sugar, and chocolate chips. It takes about 10 minutes to make and you will have a quick and plentiful snack for your kiddos or yourself (if you have a serious chocolate craving)! Don't be nervous if your chocolate doesn't melt completely smooth, it taste just as great!
Here's what you need:
2 cups milk chocolate or semi-sweet chocolate chips
The process:
Preheat oven to 400°F and line a cookie sheet or jelly roll pan with saltine crackers in a single layer.

In a small pot combine sugar and butter and bring to a boil. Boil for 2-3 minutes. Mixture should be a deep caramel color. Pour over saltines and spread to cover crackers completely.

Bake at 400°F 5 to 6 minutes. The crackers will look bubbly.

Melt chocolate chips while the mixture is in the oven.
Remove from oven and spread melted chocolate over the crackers.
Cool completely and break into pieces. You can put nuts or other toppings of your choice on top.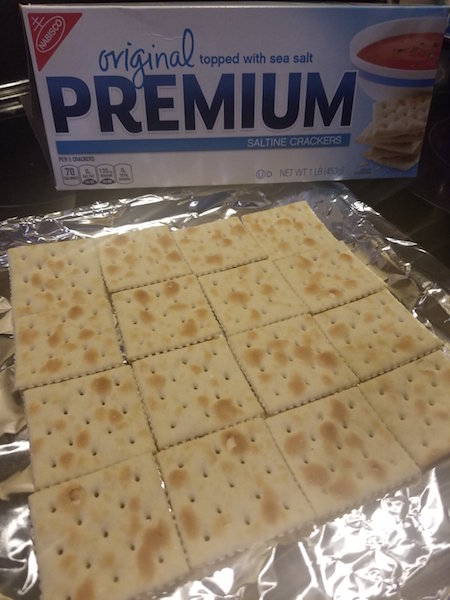 I have to be honest when I say I put a little more chocolate chips on mine then called for because, well, my family loves chocolate. And we added peanut butter to a few because I mean come on, peanut butter and chocolate go hand-in-hand. These are a great after dinner treat that the whole family can enjoy. Or hey, if you are short on time and need a sweet treat for a party, this is for sure the recipe for you!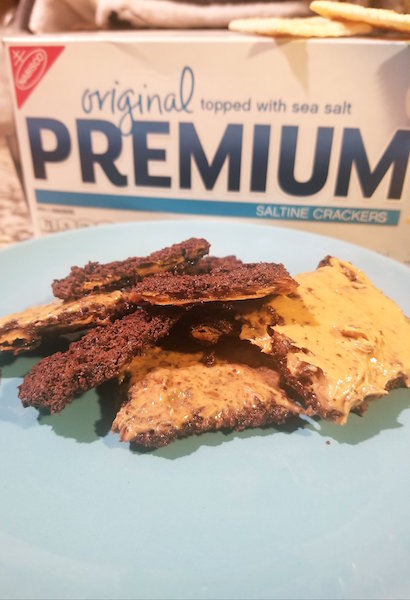 Don't forget to check out all the latest deals, recipes, and savings here at https://www.mymilitarysavings.com and hop over to https://www.mymilitarysavings.com/brands/nabisco to catch deals like this, Nabisco Premium Crackers for only $1.79 at your local commissary!