BOOST® Cake Brownies With Chocolate Icing
Proper diet and nutrition are vital to health and well-being! When you add BOOST® Nutritional Drinks as a key ingredient, you are helping yourself get the nutrition you need in a variety of delicious ways. BOOST® Nutritional Drink has a variety of different drinks including Calorie Smart, High Protein, Glucose Control, and the Original drink!
With the holiday's coming up, we are all looking for delicious recipes to share with family and friends. This recipe for Cake Brownies with Chocolate Icing is the perfect dessert to add to your Thanksgiving plans! Not only is it delicious, but it's a healthy dessert that everyone will appreciate! Check it out here because it is a MUST TRY!!
What You Need
2 cups all-purpose flour
1/2 cup unsweetened cocoa
3/4 cup brown sugar (packed)
1 tsp. baking soda
1/2 cup water
1 – 8 fl. oz. bottle BOOST® Chocolate Drink
1/3 cup vegetable oil spread (melted*)
1 tsp. vanilla extract
2 egg whites
1 1/4 cups powdered sugar
1 Tbsp. unsweetened cocoa
2 Tbsp. milk or cold coffee
Instructions
FOR BROWNIE:
Preheat oven to 350° F.
Combine flour, cocoa, brown sugar, and baking soda in a mixing bowl; stir well.
In a separate bowl, combine water, BOOST® Chocolate, melted vegetable oil spread, vanilla and egg whites; stir well.
Add BOOST® mixture to flour; stir to combine ingredients.
Pour batter into a 9"x13" pan sprayed with nonstick cooking spray. Bake at 350° F for 15 – 20 minutes or until toothpick inserted comes out clean.
Cool completely before icing.
FOR ICING:
Combine powdered sugar and cocoa in a bowl.
Add milk or cold coffee and stir until smooth.
Spread evenly over cooled brownies. Allow icing to set for 10 minutes before cutting.
Cut brownies into 20 pieces.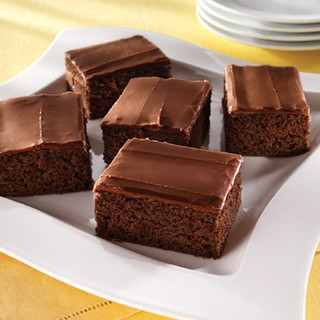 And right now at your local commissary, you can get BOOST® Original Drink for only $7.79! So hurry in and stock up because this deal is only good until 11/30/17!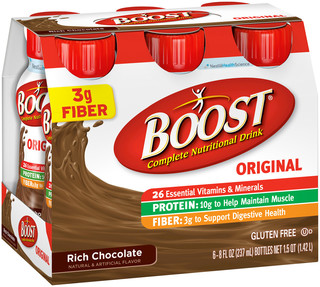 Want more deals, coupons, savings? Then check out https://www.mymilitarysavings.com/brands/nestle-nutrition for all they have to offer, plus some more pretty amazing recipes!