Hey y'all! So, we're back in Georgia and going through some house renovations which means I STILL don't have to proper stove to work with. But! Me and my new buddy, the Instant Pot, are getting along just fine. It's a pretty handy electric pressure cooker, but I can also use it as a slow cooker, which is what I did today! I'm always on the lookout for easy to make and eat meals so I made a really easy and yummy chicken enchilada dip. Any dinner the kids can eat with chips is a winner, but I think this would also work as tortilla filling! I'll definitely be making it again, maybe for a housewarming party or the Super bowl!
Chicken Enchilada Dip
2 lbs of chicken. Mine were thawed, which took about 5 hours in the crockpot. If you start with frozen, I'd go about 8 hours on low.
1 1/2 cups of sour cream
1 cup diced onion
1 large can of diced green chilies. I used mild, but it's totally up to your preference.
1 large can of enchilada sauce. We love red enchilada sauce, but it would be delicious with green as well! I might add another can of enchilada sauce next time too. We REALLY love it 😉
1 can cream of chicken soup. I used two cans this recipe and it was a little too soupy for my liking. I either needed to add more chicken OR drop it to one can of soup. I made it work though!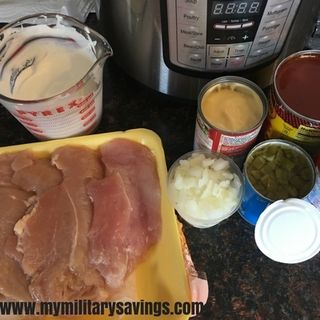 Mix all the ingredients, except the chicken, into the crockpot, and place your chicken on top. Set to cook for 5-8 hours (depending on your thawed/frozen chicken situation) on low.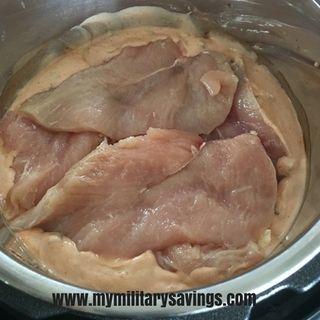 Shred your chicken with two forks, give it a stir, and top with your favorite shredded Mexican cheese. I used about a cup initially and left some on the side to top individual bowls.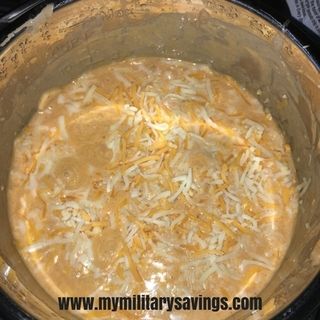 So, remember how I mentioned it was a little too "soupy" for my liking? I cut up two flour tortillas into tiny pieces, added them to the pot and it thickened it right up! And no one knew the difference. 😉
This made a TON of dip too, so be prepared to snack for days! Enjoy!