Normal
0
false
false
false
EN-US
JA
X-NONE
/* Style Definitions */
table.MsoNormalTable
{mso-style-name:"Table Normal";
mso-tstyle-rowband-size:0;
mso-tstyle-colband-size:0;
mso-style-noshow:yes;
mso-style-priority:99;
mso-style-parent:"";
mso-padding-alt:0in 5.4pt 0in 5.4pt;
mso-para-margin:0in;
mso-para-margin-bottom:.0001pt;
mso-pagination:widow-orphan;
font-size:10.0pt;
font-family:"Times New Roman";}
If your house is anything like mine dinner can sometimes be
a challenge to get on the table. Well
Campbell's is here to help make dinner prep just a little easier! Saving the day (or dinner) is Campbell's Slow Cooker, Oven, and Skillet Dinner Sauces. These dinner sauces are here to deliver
delicious meals with easy to follow recipes that are sure to make meal time a
hit!!
I have to
admit I use the slow cooker several times a week because it is a set it and
forget it type of thing. Here is a great
slow cooker idea using Campbell's Slow Cooker Dinner Sauces!
Shredded Beef Taco
Ingredients:
Boneless Chuck Roast (2 to 3lbs)
Slow Cooker
3 Simple Steps:
Place
beef into slow cooker and pour the sauce over the beef (no water needed)
Cover
and cook on low 7-8 hours or high 4-5 hours or until beef is fork tender
Shred
beef and mix with sauce
Yes, it is that easy!!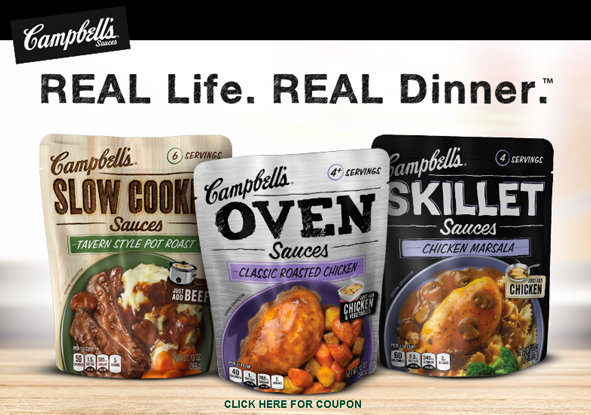 Check out the link http://www.campbellsoup.com/Promotions/PromotionsAndCoupons for great coupons on savings on Campbell's
Dinner Sauces and on other great Campbell's items to use at your local Commissary or exchange!
Information from http://www.campbellsauces.com