Making Salad Fun and Tasty
Normal
0
false
false
false
EN-US
JA
X-NONE
/* Style Definitions */
table.MsoNormalTable
{mso-style-name:"Table Normal";
mso-tstyle-rowband-size:0;
mso-tstyle-colband-size:0;
mso-style-noshow:yes;
mso-style-priority:99;
mso-style-parent:"";
mso-padding-alt:0in 5.4pt 0in 5.4pt;
mso-para-margin:0in;
mso-para-margin-bottom:.0001pt;
mso-pagination:widow-orphan;
font-size:12.0pt;
font-family:"Times New Roman";}
May is National Salad Month!! Yes, you read that correctly,
an entire month devoted to salads! Salads are a great source of eating more
greens, protein, fruits, and vegetables. Now I have a confession, I was never that
person that loved to eat salad, or even lettuce for that matter! However, since
changing my lifestyle to be more active and healthy, I have realized that there
is tons of ways to not only eat salad, but to make it fun! You see, salad
doesn't have to be boring or just have lettuce and veggies; you can add protein
like meat and eggs, pasta, different nuts, and even fruit!
Here are some really awesome salad recipes that you can incorporate into your family's meals:

Spinach and Hot Chicken Dressing Salad
A yummy spinach salad that uses Tyson chicken bites with a
homemade dressing!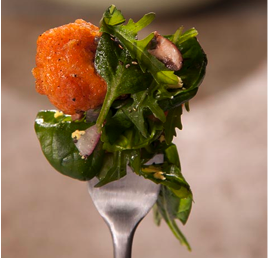 http://www.mymilitarysavings.com/recipes/spinach-and-hot-chicken-dressing-salad
Tuscan Farmhouse Salad
Love tuna? Well this rustic salad incorporates Starkist
tuna, olives, blue cheese and artichokes! How delicious does that sound??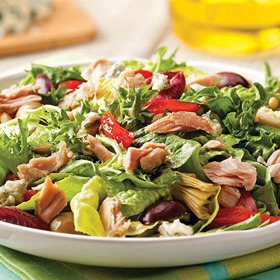 http://www.mymilitarysavings.com/recipes/tuscan-farmhouse-saladarge.png
EZ Grilled Steak Salad
This salad is perfect for all the steak lovers out there!
Use Jack Daniels marinated steak, greens, onions, and tomatoes to create this
protein packed masterpiece!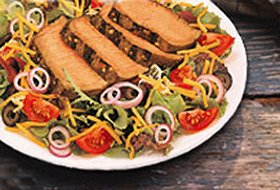 http://www.mymilitarysavings.com/recipes/ez-grilled-steak-salad
Apple Pasta Salad
This light and refreshing salad using Motts Applesauce to
create a tasty dressing to toss with pasta, tomatoes, and cucumbers, and topped
with feta cheese!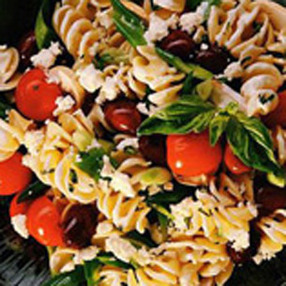 http://www.mymilitarysavings.com/recipes/apple-pasta-salad
So no matter if you want to use a salad as a side dish, the
main meal, or as a party or pot luck dish, there are ways to create tasty meals
without having to tick up that calorie count! Enjoy National Salad Month!!