My time as a mom is precious. Between jobs, kids sports, household duties and any personal time, cooking elaborate meals just isn't in the cards anymore. I need meals that are satisfying, quick to prep and make, but still flavorful. So I came up with this super simple secret ingredient chicken sandwich!
My secret ingredient is using a lemon carbonated beverage to marinate the chicken. It makes the chicken tender, juicy and adds just a touch of sweetness that is complimented by the lemon pepper seasoning.
To make them you will need…
Thin chicken breast cutlets
Lemon carbonated beverage
Lemon pepper seasoning
Buns
Lettuce
Tomatoes
Pickles, etc
In a glass dish add the chicken and pour the lemon drink over, just enough to completely cover the chicken. Marinate for two hours.
When ready to cook, heat up a tbsp of olive oil until hot in a frying pan. When the oil is HOT, place the chicken into the pan, and don't touch for one whole minute (add another minute for thicker chicken), until the chicken has a nice golden crust.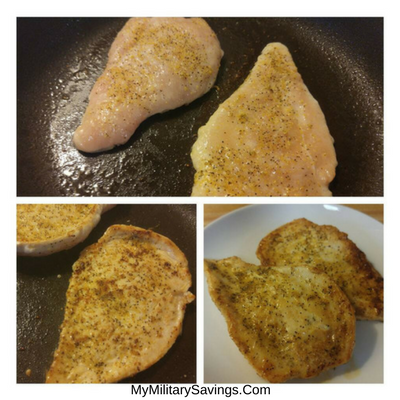 Flip and repeat.
Serve on warm, toasted buns with your favorite toppings.
These are such a hit in our family that my kids inhale them, and I love them cause they make dinner a breeze!