Coffee and muffins go together like peanut butter and jelly, macaroni and cheese, or milk and cookies.
And having a good muffin recipe in your back pocket is something every baker should have. And these mini banana walnut almond muffins are so good YOU WILL get asked for the recipe. So make sure you keep a copy handy!
They are the ideal blend of banana with extra nuttiness from almond extract and chopped walnuts. I personally think they taste better than any coffee house or bakery banana bread I've ever had! The almond extract instead of vanilla really pushes the flavor factor over the top!
1.5 cups sifted all-purpose flour

1/2 cup sugar

1 tsp baking soda

1 tsp baking powder

1/2 tsp salt

3 tbsp applesauce

3 tbsp melted butter

1 tsp almond extract

1 egg 3 banana, mashed

1/2 cup crushed walnuts
Preheat oven to 350 degrees. Spray muffin pan with non-stick spray. In large mixing bowl mix mashed bananas, melted butter, applesauce, egg and almond extract. Then slowly stir in dry ingredients. Once mixed, add in walnuts. Divide equally into muffins tin. Bake for 9-12 mins depending on your oven.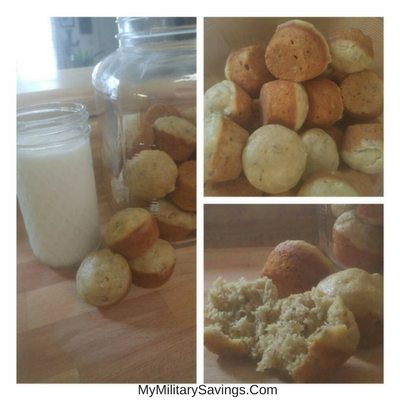 Then enjoy the sweet, bite-sized, bits of heaven in your mouth. And don't get mad at me when you can't stop yourself at just one! They really complete my morning coffee and the kids LOVE them with their morning cup of milk!
But at only 58 calories each, you don't have to beat yourself up if you do have two…or three… Or four!