I can't believe it's February already! This year is flying by for us. Valentine's Day is right around the corner and this year I decided to do a little something different when it comes to my boys. These little robots are SO cute! They make great after school snacks and they're easily customizable. I picked some of our favorite candies to build our robot snacks! All you need is some double sided tape and 5 minutes. Try not to eat all the candy while you're making them! 😉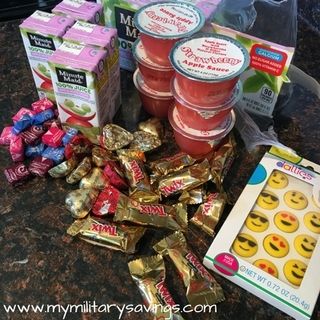 If you can't find these little emoji faces in the cake decorating aisle, just use a marker! My boys are obsessed with emojis right now so I couldn't resist. I used fruit juice bodies, strawberry applesauce for their heads and peanut butter cup shaped hearts. Their cookie bar arms and little chewy candy feet are so darn cute!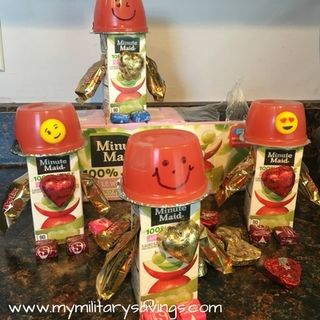 Instead of getting the boys all crazy sugared up with a ton more candy, we attempted to make homemade slime! Spoiler alert: it worked! And it was so much fun! There are ton of recipes on Pinterest so I found a simple one to try. I had to split the recipe into two because, of course, my guys didn't agree on one color slime! 😉
I ended up with about 14 ounces of glue in each tub (two of the giant bottles of glue each.) Add in 1 cup of hot water each and add in your food coloring and glitter, if using. Stir until smooth.
Dissolve 3 teaspoons of Borax in 2 cups of hot water. Slowly add the water into the glue mixture and stir together. It will goop together almost immediately.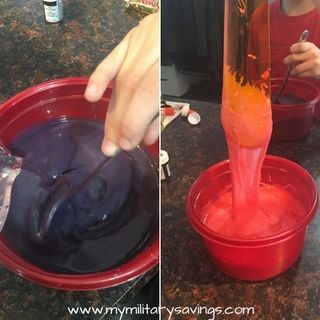 You may not need all the water so pour slowly. Once it's mostly gooped up, begin mixing with your hands. This is the fun part!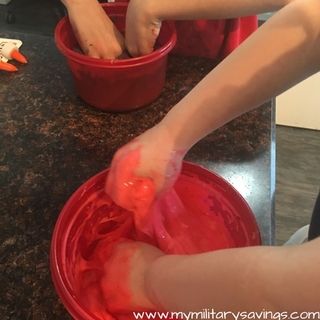 We started with red and black food coloring (because that's all I had!) and it turned more into pink and purple, which was pretty perfect for Valentine's Day. As you can see, the slime is a HUGE HIT.