Try this side dish recipe as a perfect pairing to go with REDD'S Apple Ale; which is on sale at your local Coast Guard Exchange (CGX), Marine Corps Exchange (MCX) or Navy Exchange (NEX) for $12.99 from December 01 – 31, 2017 for 12 pack bottles only. Snag this delicious recipe, and get ready for some finger licking deliciousness!
What You Need
2 lbs Brussel Sprouts (2 bags)
2 tbsp Toasted Sesame Oil
4 tbsp Soy Sauce
2 tbsp Water (or White Wine)
1 tbsp loose brown sugar
1 tbsp toasted sesame seeds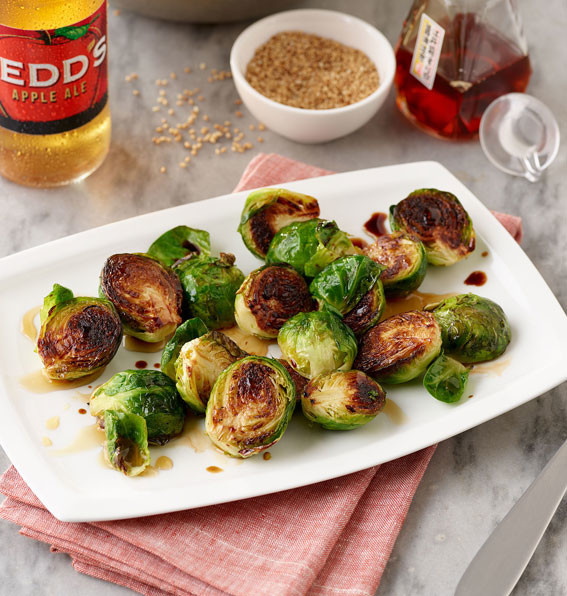 Instructions
Pre-heat oven to 400°
Cut brussel sprouts in half, with the cut towards the stem. Place into a 9 x 14" pyrex baking pan or equivalent. Toss with sesame oil. Place into the oven for 15 minutes.
While baking, combine soy sauce, brown sugar and sesame seeds. Remove brussel sprouts from oven and toss with soy sauce mixture. Return to the oven for 15 minutes. Serve warm or cold.
This was so delicious!  We've made this as one of our side dishes when our family has had grilled steak, chicken, seafood or even when we've had a pairing of surf and turf.  Even if you've never really liked brussel sprouts, I promise… you've never tried them this way.  They are so divinely scrumptious!  My kids; to especially include my youngest, who is the most finicky of the picky eaters in our family likes brussel sprouts when they are cooked like this!   I've had to start making a double batch whenever I make them for lunch or dinner.  I recently made them for a potluck gathering we went to and they were a huge hit and the ONLY vegetable that was completely gone!  My husband was shocked as he didn't think they'd go over so well due to the fact that most people haven't tried or dislike brussel sprouts.  Obviously when they are prepared this way, they are winning over more taste buds with their tantalizing mouth watering deliciousness!  Give this recipe a try and let us know what you think.  Don't forget to try some Redd's Apple Ale with them.
Remember to drink responsibly and NEVER serve anyone under the legal age of 21 years alcohol or alcohol containing beverages.