Salsa for the Soul
One of the best things about having a simple staple food is that it is easy and quick to put together. One of my favorite summer dishes. Who am I kidding though, this recipe is good YEAR ROUND! It is a quick easy chunky salsa that you can literally use for ANYTHING! We have used it as a side dish, to a topping for a roast in the oven. Fast and easy, this will quickly become a favorite of any get together you might be considering this year. Make sure to make a HUGE batch.. you will want to keep it all to yourself!
INGREDIENTS:
Tomatoes (4-8 depending on size and your taste)
Onions – I used two medium onions, finely chopped
Cilantro – four to five bunches
Jalapenos – this is all up to you! Do you want a mild spice, or a real kick? I used three for this batch, but I have used up to 8 to add a nice kick.
Lemon Juice – two to four liberal squirts (adjust to your taste)
Salt – season to your little hearts desire!
DIRECTIONS:
Finely chop all the ingredients to your desired constancy. You can use a food chopper if you prefer, or simply take pair of scissors when you are done chopping and cut a little more if you wish. You will have to have smaller chunks to allow for more to fit on your chips.
Add lemon juice and salt. Mix and taste. Add more lemon juice and salt as needed to get your desired taste. Mix really well to ensure that all ingredients are mixed evenly.
Put into the fridge for 30-60 minutes before serving. This allows the juices to meld, and the really soak in.  Give it a good stir again before adding to your favorite serving dish. Add your favorite dipping instrument (chips are really delicious with this) and eat away!!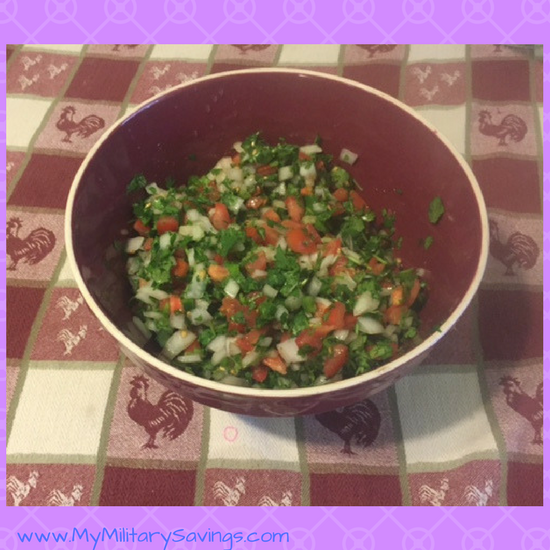 This has quickly become a family favorite. I make this for all our summer get together's and picnic type meals. We have used it for burgers, chicken and more! The possibilities are simply endless. Share your favorite ways to eat this delish side dish!