Hey everyone! We've made it through yet another week and you know what that means! I'm back with another weekend Happy Hour! I've got a super fun drink that everyone should make this weekend and next week in honor of… SHARK WEEK! We are huge fans of Shark Week on Discovery every year so this week, I decided to make a drink to celebrate! Enter the Shark Attack! There's also a kid friendly version too!
Shark Attack
White rum, such as Captain Morgan
Coconut rum
Blue Curacao
Sweet and Sour Mix
Grenadine
Gummy Sharks
Blue Soda (for the non-alcoholic version)
So, when I thought to make this drink, I could not find ANY gummy sharks anywhere! How crazy is that? You should be able to find them in any candy store or even a Cracker Barrel store. I had to order mine from Amazon! They're super giant, but so much fun!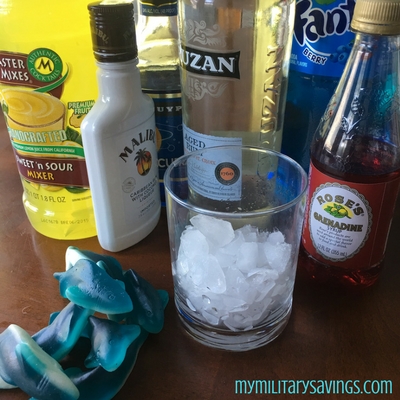 For the alcoholic version, add 1 shot of rum and 1/2 shot of coconut rum to a glass full of ice. Fill the glass about halfway with sweet and sour mix. Top with a shot of blue curacao and stir it up to create your ocean blue waters.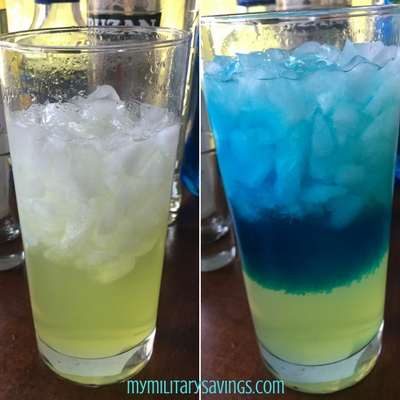 Add your gummy sharks either into the drink or propped on top. For a bloody good time (ha ha!) add a drizzle of grenadine into the glass!
SO MUCH FUN!!! For the kids drink, simply mix your blue berry soda with a splash of sweet and sour mix. Don't worry, the mix is nonalcoholic! My kids loved their concoction! Sweet, tangy, and bubbly all in one. Plus a gummy treat at the end!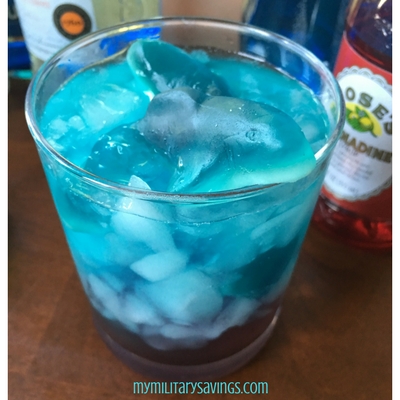 We had a blast testing these drinks out in anticipation for Shark Week on Discovery next week! I hope you try them out as well!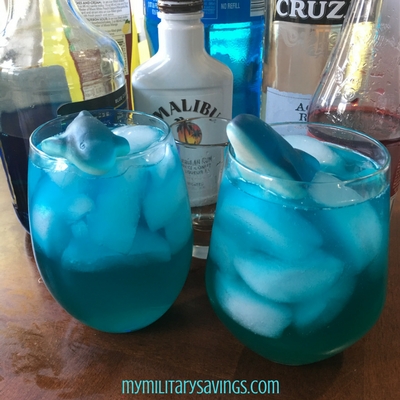 Of course, we remind you to PLEASE DRINK RESPONSIBLY! For more information, recipes, and coupons check out mymilitarysavings.com!