Texas Style BBQ Beef Brisket Sandwiches
Summary: Make with HEINZ BBQ Sauce Texas Bold & Spicy
What You Need
1 boneless beef brisket (4 lb.)
1 large yellow onion, sliced
1 cup HEINZ BBQ Sauce Texas Bold & Spicy
1 pkg. (16 oz.) coleslaw blend (cabbage slaw mix)
1/2 cup MIRACLE WHIP Dressing
4 green onions, sliced
10 kaiser rolls, split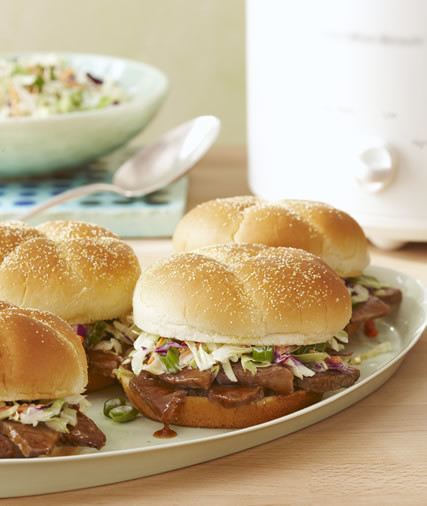 Instructions:
Place meat in slow cooker, cutting into 2 pieces if necessary to fit; top with yellow onions and barbecue sauce. Cover with lid. Cook on LOW 10 to 12 hours (or on HIGH 5 to 6 hours).
Remove meat from slow cooker; cut into thin slices. Return to slow cooker; stir gently. Combine coleslaw blend, dressing and green onions.
Serve meat with coleslaw and rolls on the side. Or fill rolls with meat mixture and coleslaw just before serving.
Cooking time (duration): Prep Time: 15 min. | Total Time: 10 hours 15 min.
Number of servings (yield): 10 servings
Category: Lunchtime
Substitute: Substitute KRAFT Real Mayo Mayonnaise for the MIRACLE WHIP.
Special Extra: For extra flavor, brown meat in skillet before adding to slow cooker. Continue as directed.
For even more yummy recipes, check out Texas Recipes!