First off can I say that I can't believe it is August! This summer has flown by and I am actually kind of sad. I love having the summer off to spend time with my little ones. I feel like they grow so fast, so any chance I get I love making memories with them. I think overall Zion had a pretty good summer though. We went to some parks, took a trip to Kansas for a wedding, and this weekend we are going to the coast. It is our last "hoorah" before going back to school and work.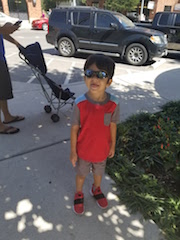 I mentioned that we went to Kansas. We celebrated a wedding for some friends of ours that were stationed in Boston with us. Zion did awesome on the drive there and actually got a little sick on the way back. However, we got through it and nobody went crazy. He had a little meltdown at the actual wedding that lasted about 25 minutes but it wasn't as bad as I think it could have been. He regained his composure during the reception and really wanted to dance. He asked for about an hour if it was time to dance but they had to do all the traditional dances and things before the dance floor was ready. When he finally got the chance to show his moves, he stayed on the dance floor for the remainder of the night! Yes, he danced for a solid 2 hours. I have a ton of videos, but I picked my favorite to share with you. Needless to say he had a pretty amazing time.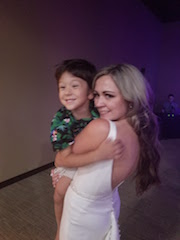 We went last week to register him for his new school. Since we moved into our house, he will be attending a different school then he did last year. I really didn't want to move him because he had gotten so used to the other school, but he needed a full day program. He will be attending school in the same district that I work (we live in district). I wish I could bring him to the school I work at, but because Pre-K is funded differently, he has to attend within the boundary that he lives. From kinder-5th he can attend my campus though. Anyway, he wasn't a huge fan of the school. He said it was too big and that worries me. It is a pretty new school, about 3 years old, so in comparison to his old school, it is pretty big. What makes things worse, is that I can't be there the first day of school with him! Since I am a teacher, I have to be on my campus to greet my students at the same time that he is going to school. Jeremiah will be there with him, but as a mother, you want to be there for your son's first day right??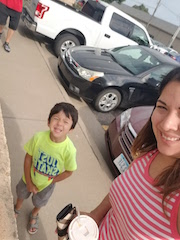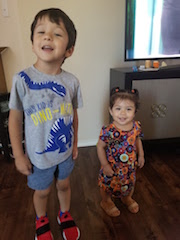 As always thank you so much for reading and the support! I recently signed us up for an Autism Walk that is happening in October, so we are really excited about that. We have named our team Zion's Zombies in honor of his current Plants vs Zombies Obsession! We will see you soon for another update.