It's the time of year when we celebrate the turkey deliciousness that comes out of our kitchens. I always make sure to have enough turkey for massive leftovers – even if that means cooking two! There are so many ways to reinvent those leftovers, without your family getting bored with the food!
Mashed potatoes are a staple on the table. Instead of adding some of the water you cook them in back in – add a little broth from College Inn to add a flavor kick! You might not have any leftovers, but if you do – you can add an egg or two (depending on the amount left over) and then form into little patties. Put these in a frying pan, and cook until golden brown. They are delicious! You can even add a little more broth to them if you want to add a little more flavor. Stuffing is another yum that you hope you have enough left to eat for the next few days. When you go to reheat it – add a teaspoon of broth, to add a little moisture and (of course) flavor. Using the broth allows for some of the spots that can get a little tough after being in the fridge to soften without being soggy.
My ultimate favorite dish for leftovers is TURKEY SOUP! Basic items, easy, and if you have enough leftovers – you have meals to put into the freezer for another time!
Here is what you need:
College Inn Broth – 2-4 containers, depending on your level of leftovers. Either Turkey or Chicken broth will work.
Leftover Turkey – either cut into bite sized pieces, or torn into chunks.
Carrots, Celery, Pepper, Salt, Bay Leaf, and Parsley Flakes.
Optional: Barley or Egg Noodles.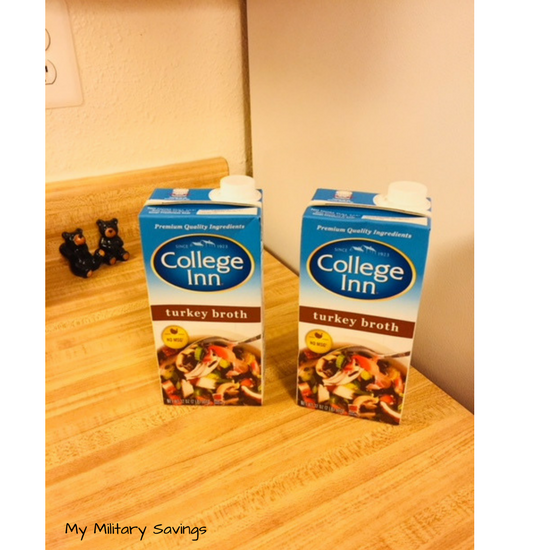 Directions:
Add turkey to your pot, and then add enough broth to where you have 2-3 inches above your turkey.
Add carrots and celery, chopped to your desired thickness. I use the petite baby carrots, so I throw them in the pot whole.
Season to your liking, and let it simmer for a while. I usually let it go about 2 hours, just to allow time for everything to meld together and permit the flavors to season.
If you are using the barley, you need to add about 45 minutes before you get ready to serve, so that it has time to cook thoroughly. The barley also freezes better than the noodles will. If you use the noodles, then you can add about 10-15 minutes before serving.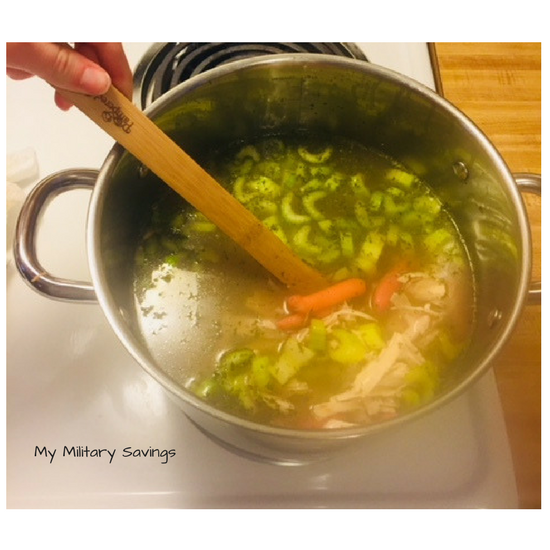 This delicious meal will have your family begging for seconds, and leave you toasty warm inside. Perfect for those bitter cold afternoons after playing in the snow, or a down home style meal. This post-holiday meal is tradition in my house, and I look forward to adding it to my menus each winter. This year, let College Inn broth help you create your perfect after-the-holiday-meal-rush delight!