Crockpot Chicken Caesar Wraps
Looking for a quick and inexpensive meal to put in the Crockpot tonight? This recipe could not be any easier! It's been another week for us without a stove (Oh, the joys of renovating a kitchen) and we are OFFICIALLY over eating out. I didn't think it could happen with my boys, but they just want to be settled and have a home cooked meal. My Instant Pot has come in SO handy and today's meal is no exception! These Chicken Caesar Wraps are the easiest and one of the tastiest weeknight meals to throw together. Check them out!
This recipe is REALLY easy and super cost effective! In the Crockpot add 4-6 boneless skinless chicken breasts and 1 cup of Caesar dressing. That. Is. It! I used 6 breasts and it made dinner PLUS lunch tomorrow for my family of four! It's super easy to customize the size to your needs. The chicken was thawed so I cooked them on low for about 5 hours. If you're starting with frozen chicken, cook them for about 7-8 hours on low.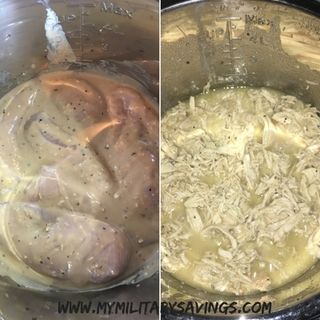 Shred the chicken with two forks and let it sit for about 5-10 minutes to thicken up a bit. If you're watching your carbs, serve the chicken on a bed of veggies for an awesome Caesar salad! We wrapped ours in large flour tortillas stuffed with romaine lettuce, sliced cucumber, shredded cheese, and a little extra caesar dressing.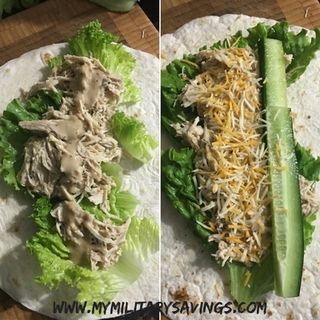 Fill them with your favorite fillings, wrap 'em up and serve them with some tasty chips for a new family favorite dinner! These wraps will definitely be going in our weekly meal rotation.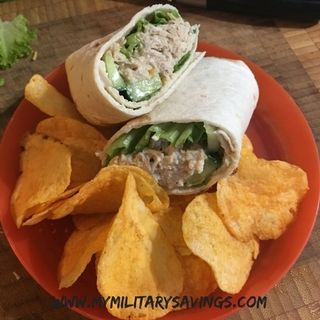 Some variations: Use ranch dressing and fill your wraps with bacon and cheese for yummy Chicken, Bacon, Ranch wraps! Or you could add buffalo sauce and bleu cheese for some Kickin' Chicken wraps. Let me know how you decide to dress up your wraps in the comments below!