Crockpot Pork Verde
I'm back with another quick and easy crockpot meal! When coming up with ideas to write about, my 10 year old immediately mentioned Pork Verde because it's his absolute favorite soup. It's also starting to finally cool down here in San Diego and my family LOVES soup season. Done and done! This is another super customizable recipe and yes, you can even add a toppings bar! 😉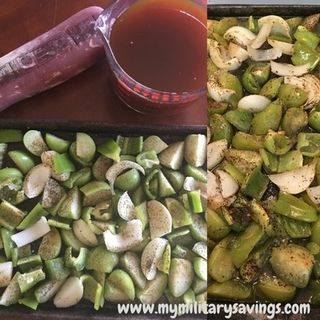 Crockpot Pork Verde
Serves 8-10      Time: 6-8 hours
Ingredients: 
2-3 lbs of boneless pork. I used a tenderloin, but have been successful with pork shoulder, pork roast, even boneless pork chops! Use whatever you have on hand (or what's on sale!) My pork was thawed so it only took about 6 hours on slow. You can absolutely use frozen pork (one of my favorite parts about crockpot recipes!) and just add 2-3 hours of cook time.
Salsa Verde. Now, IF you have time, buy 8-10 tomatillos, a couple bell peppers, and an onion to dice and roast in the oven. I roast mine in olive oil at 425 degrees for 20-25 minutes. This is an extra step, but worth it when you've got some time. I sprinkle salt, pepper, onion, garlic, and cumin before roasting. Let it cool for a few minutes and then stick in the blender or food processor to make the verde sauce. If you don't have time for all that, use your favorite jar of Salsa Verde. I've made it both ways and they're both excellent!
32-64 ounces of broth. I always buy vegetable broth to have on hand because really, it goes with everything, but you can use what you like. So, if you want soup, go ahead and use 64 ounces (8 cups) of broth. If you'd rather have saucy pork you can wrap in a tortilla, just use 32 ounces of broth. If you're in a pinch you can even split the cups and use a mixture of broth and water. Like I said, this recipe is EASY!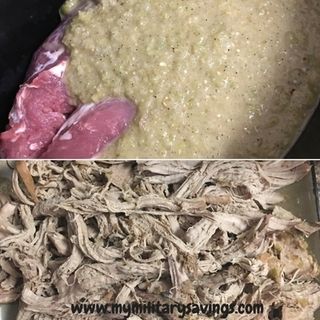 Once you've added your ingredients to the crockpot, let it cook low and slow for 6-8 hours. Your family will come home and immediately ask what smells so good! Right before serving, pull out your pork and shred it with two forks. It will literally fall apart into melt-in-your-mouth deliciousness. Add it back to your crockpot and give it a stir. And now for the toppings! My 10 year old adds hot sauce, my 5 year old adds shredded cheddar cheese, my husband will add any toppings laid out, and I have put everything in this soup. I love avocado and sour cream. I also love adding an over-medium egg to the top and eating it for breakfast! Hey, don't knock it till you try it! Some other great toppings are fresh cilantro, chopped onion, and even diced jalapeno for a nice kick. If you've used less broth, add your pork verde to taco shells, soft tortillas, or even top tortilla chips for nachos! The possibilities are endless and delicious!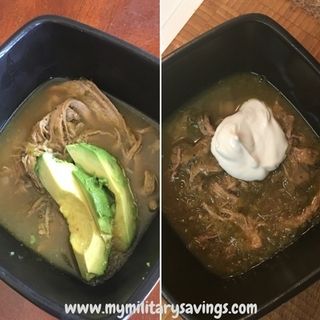 Please comment below and let me know how you like it!