It's Spring! And almost Easter! And Friday! This week's recipe should be called FAST Foodie Friday, but it's so quick and easy. Now, if you have picky veggie eaters like the my kiddos, this recipe can work for you. There's always ONE veggie your kid will snack on. For instance, I learned my 5 year old, who hates asparagus, will actually eat it raw from Grandma's garden. So guess what? Raw asparagus it is! It add a nice crispness to this pasta dish. Also, using fun pasta shapes will put a smile on just about anyone's face.
This recipe is incredibly versatile! You can even serve it cold as a side dish to your Easter ham. OR cube some leftover ham and toss it in with the pasta and veggies! Who doesn't love a 30 minute meal?
This week, I chose asparagus, sugar snap peas, and these sweet little cherry tomatoes (in orange just to mix it up!) YUM! This can absolutely work as a one pot meal as well. If you're using frozen veggies (broccoli, peas, green beans) pour them into the pasta pot about halfway through cooking your pasta, drain, and voilà!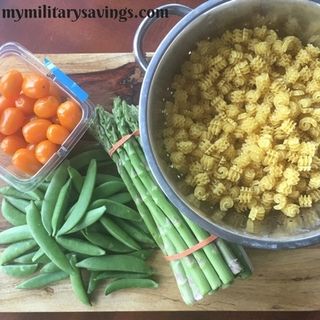 I cut my green veggies on the bias, which is just an impressive way of saying I turned my knife and cut them diagonally to get pretty pieces. I'm fancy like that! 😉 I did toss my asparagus and sugar snap peas in the pasta pot for the last minute and then drained them. Just to heat everything up to the same temperature (Ssshhh don't tell my kids!)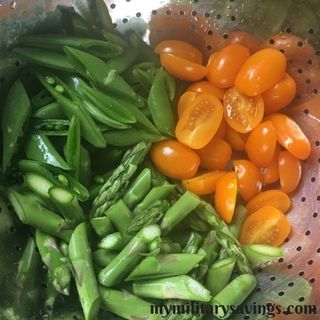 Once everything is drained I tossed the pasta with a healthy amount of olive oil, salt, and pepper. You can get really creative here too and add your favorite herbs and spices. I think a lemon pepper or extra garlic would be phenomenal! Oh, and freshly grated parmesan cheese! Yep, that's going back on the menu!
Comment below on your favorite veggie and pasta pairings! I'm always looking for something else my kids will eat! 😉
Enjoy!